Do you want to play a mobile game without really having to deal with a lot of mechanics? I'm sure you just want to play an idle adventure game like Elemental Titans: 3D Idle Arena.
Elemental Titans is an adventure role-playing game where I get to choose from six different elements and fill up a roster of heroes from each element. Puzzles and more adventures are waiting to be discovered and answered in this thrilling idle game.
If you want to learn more about Elemental Titans, check out my guide on how to collect heroes for free, how to download the game, and more.
Go Hard When You Play in the Campaign
Save Your Hard-Earned Diamonds for Events
Take Advantage of the Auto-Equip Feature
Get to Know a Boss Before You Fight It
Join a Guild for More Perks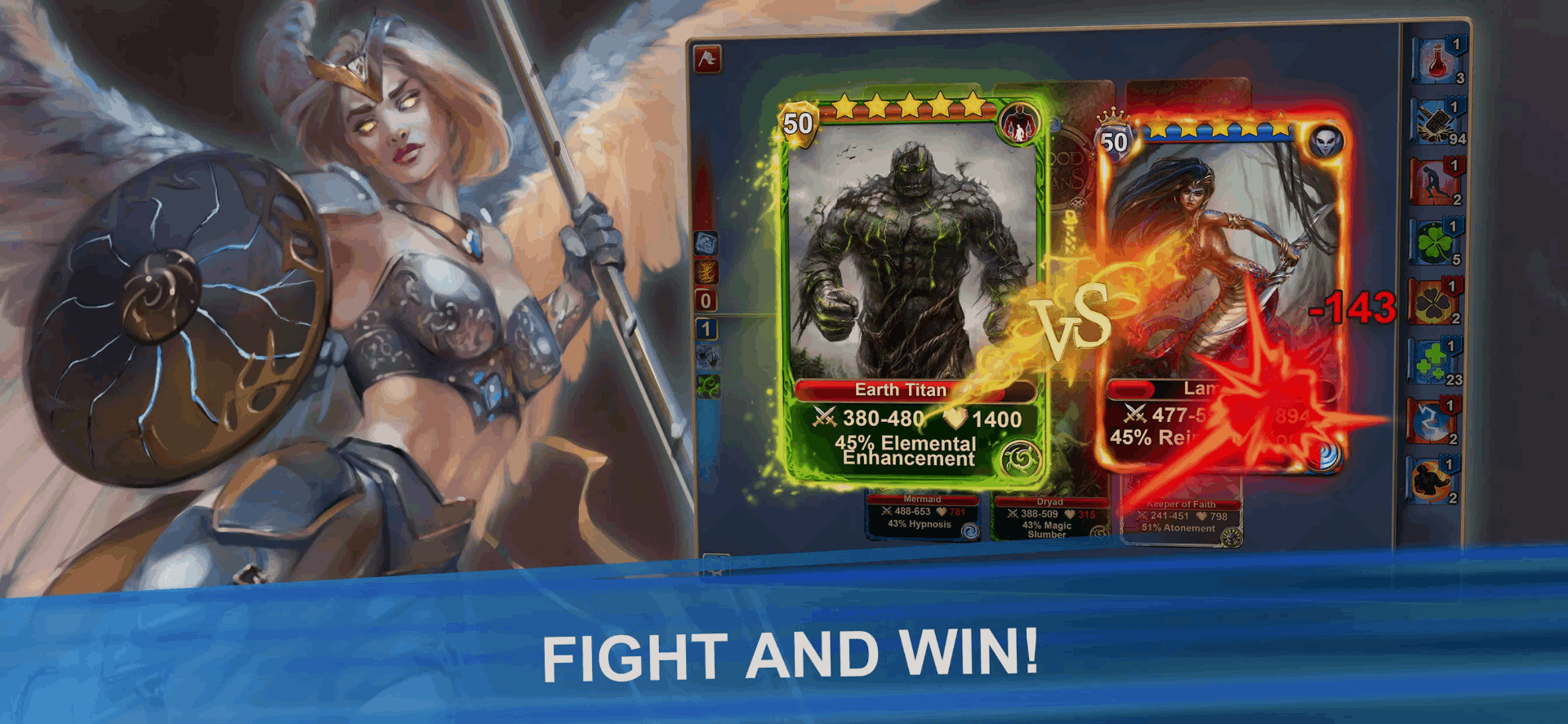 Go Hard When You Play in the Campaign
Elemental Titans are all about collecting new heroes and getting stronger as you accumulate more heroes. The goal here is to have as many heroes as possible so you get a stronger team.
My initial advice for becoming better in the game is to learn what it is all about. The best way to do this is by playing the Campaign.
The Campaign has a good storyline but what it does is introduces you to the different mechanics in a step-by-step fashion. This helps you collect different resources, such as gold coins, so you can afford more heroes.
Go hard when you play in the Campaign since the farther you go, the better the rewards which you'll need later on in the game. Prioritize playing the Campaign whenever you log in to the game.
How to Collect New Heroes for Free
Heroes are the bread and butter of playing Elemental Titans and I'm going to teach you how to get them for free. There are still so many tips on how you can do so. However, I have determined the best way to collect them is to simply play the game.
Playing the game, especially through the Campaign will earn you freebies and other rewards. Most of these rewards are materials and other resources that have helped me pull a lot of free heroes to add to my team. Don't worry too much about collecting powerful heroes at the start of the game.
Just learn the basics first and start building your team once you have enough resources to purchase new ones. You also don't need to purchase new heroes using real money when you have all the resources you need by simply playing the game.
Save Your Hard-Earned Diamonds for Events
As a gacha game, many players are hesitant to use their resources in Elemental Titans. One such important resource is diamonds. Diamonds are hard to come by in the game, making them very valuable.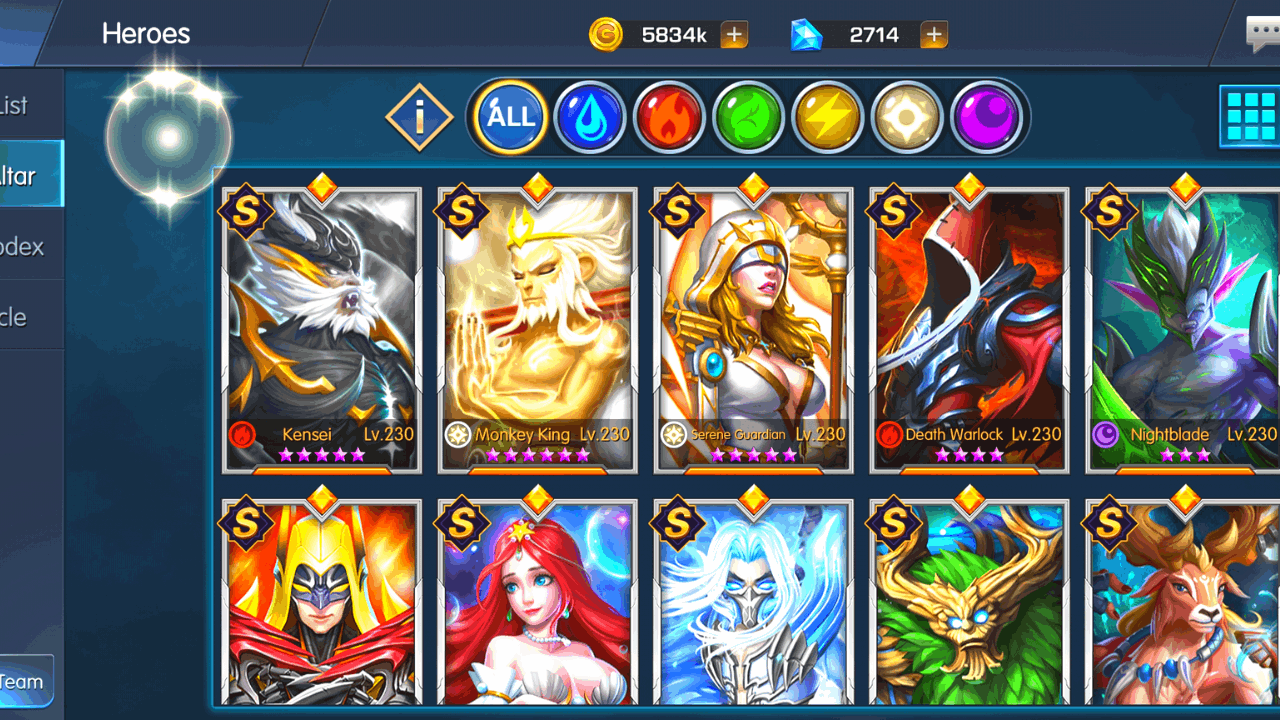 They are commonly used to pull new heroes in the game. However, try to save your hard-earned Diamonds for events. Events happen regularly in the game and the best part about them is that these events feature exclusive new heroes that can only be pulled using Diamonds.
One event that I often anticipate is the Event Summons which I highly recommend that you try so you can collect as many heroes as possible. All of these heroes belong to the rare class.
Get the Same Hero to Upgrade Them
Now that you've learned how to get heroes to bolster your team, it is time to learn how to empower them. One good way to empower them is to upgrade their star rating. A high star rating ensures that each hero levels up and deals more damage which allows them to take on more difficult enemies.
The goal here is for all of my heroes to reach full stars and this alone can take a lot of time. I noticed that each hero has their own set of requirements to level up. Check out the number just below each hero to see this.
This is the number of hero cards you need to collect so you can upgrade them to the next level. Keep on collecting the same hero card so you can use it to upgrade them. I know this is a very slow experience but it is also worth the hard work.
Take Advantage of the Auto-Equip Feature
Newbies are going to be very overwhelmed with the amount of content that is presented at the start. This can be very difficult to retain especially for those who don't have much experience with gacha games like Elemental Titans.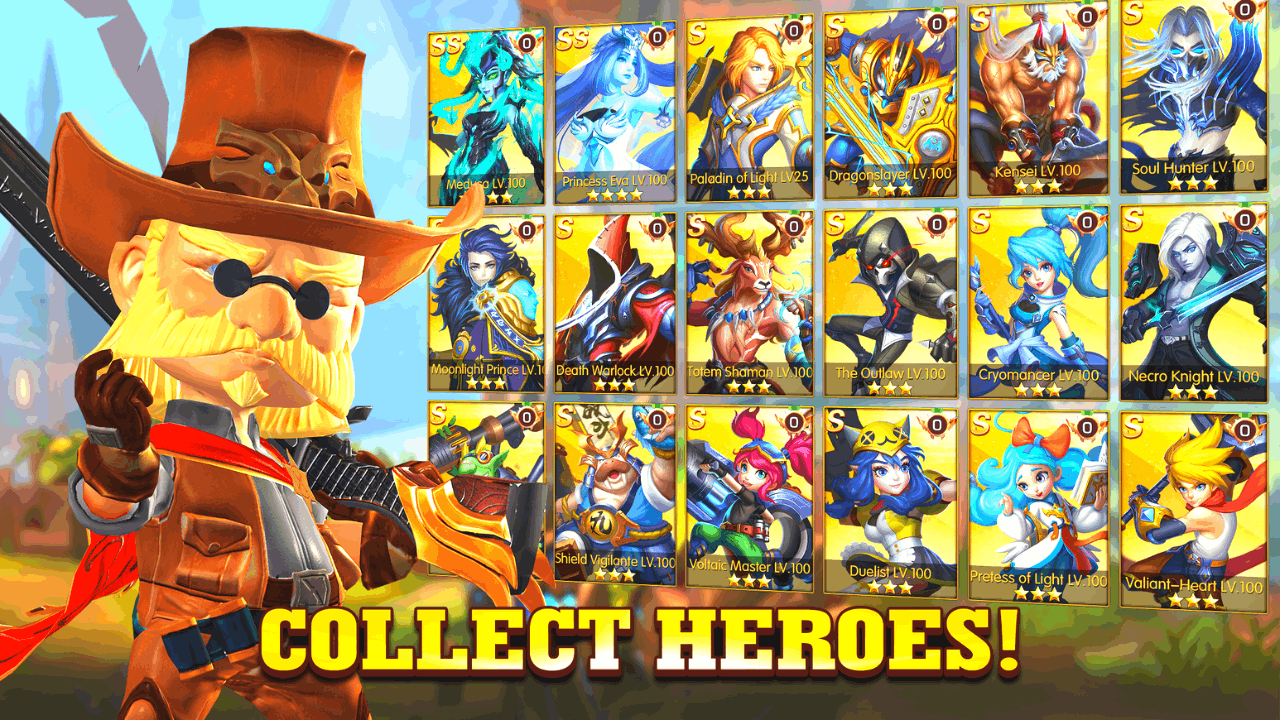 This is the reason why I often recommend new players take advantage of the auto features in many of these games. Elemental Titans is no exemption as it also has many auto features in its gameplay.
One such auto feature that you should always take advantage of is the auto-equip. This automatically equips your heroes with the most optimal weapons and other equipment based on your inventory.
This way, I don't need to sift through different items in my inventory just to pick the right weapon and items for a specific hero. Play the game immediately by tapping auto-equip and get to work.
Upgrade Purple Gears Only
In Elemental Titans, gears are segregated into many different power levels. Each power level is indicated with a certain type of color. The only color that you should always be watching out for is the color purple.
Purple is the most important power level that has helped me through the tougher areas in the game, especially if I want to build aggressively. Upgrade all of your purple gear and focus on them. This will help you develop your gear and equip them with the perfect hero from your team.
You might be tempted to upgrade other items early on but skip that part and collect as many purple items as possible so you can upgrade them once you have enough materials.
Get to Know a Boss Before You Fight It
There are hundreds or even thousands of enemies in this game. Once in a while, you encounter a terrifying boss that will truly challenge your roster.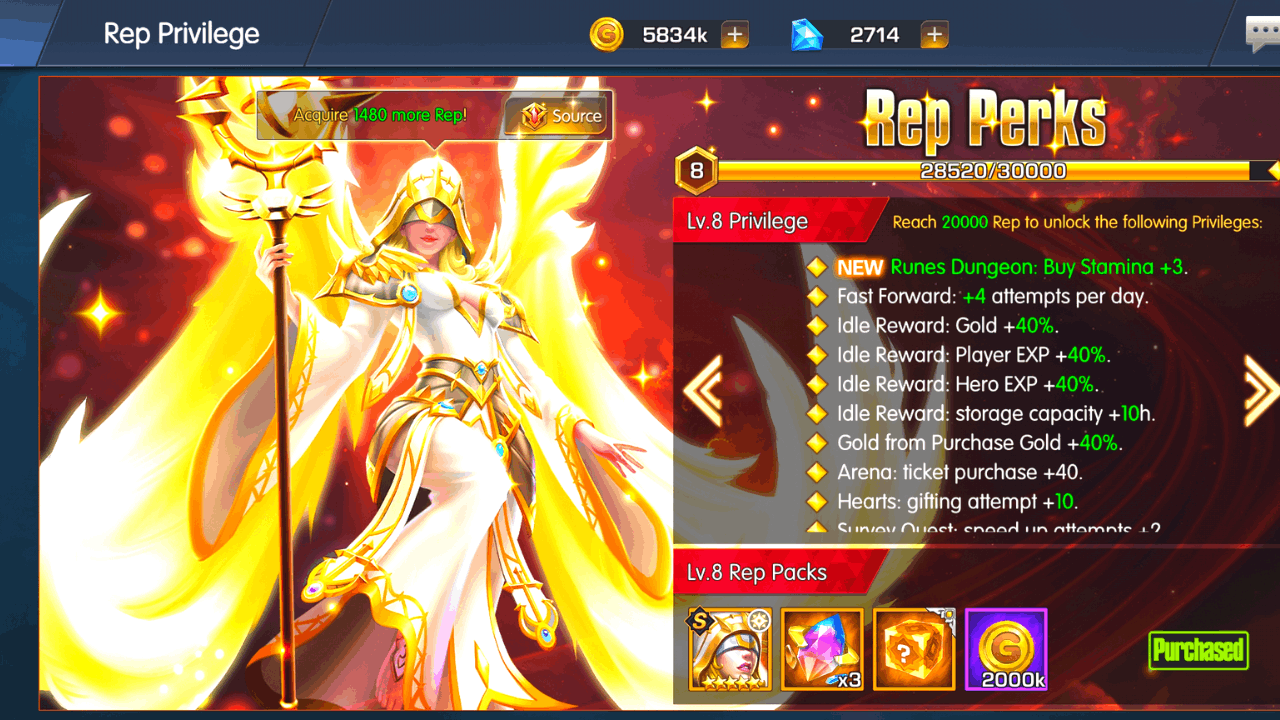 A boss is usually a large-sized monster at the end of each chapter that has some of the most devastating attacks. You'll need to exert a little bit of extra effort and strategy in dealing with them.
The best way to handle a boss and limit the amount of damage they can deal with my team is to get to know them first before a fight.
There is an option to check the elements of a boss that you're about to face so you can counter them and make it far easier for you to defeat them. Take advantage of this option and never initiate a fight with a boss without any background information.
Log in Every Day for More Rewards
As a newbie, you will need all the help that you can get. Materials and other resources are important to make your initial experience in the game positive.
You can always farm for resources and materials while playing the game but I recommend you tap the Daily option at the top right corner of the home screen every time you log in to the game. This will unlock the daily reward if you log in to the game for seven days straight.
You also receive an even bigger reward once you complete the seven-day login period. Always make sure to check this option when you first log in to the game each day and collect the rewards so you can use them in the game.
Join a Guild for More Perks
Guilds are an important aspect of playing Elemental Titans. I discovered even more perks and rewards when I decided to join a guild right after I first started the game.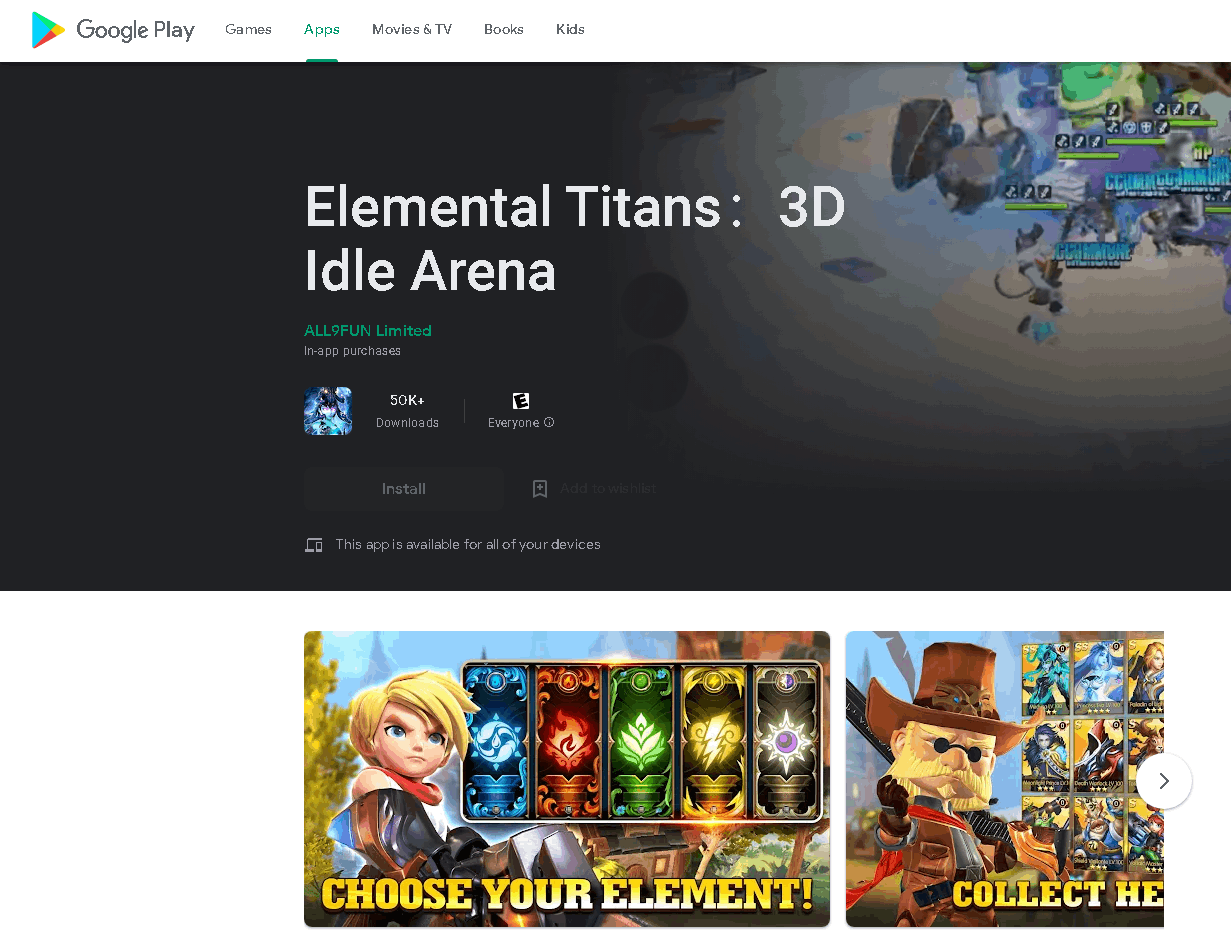 I also got to meet different players and most of them have helped me in certain areas of the game. Join an active guild and make sure that you communicate with your guildmates from time to time.
The more you interact with them, the more your guild levels up and it will slowly unlock even more rewards. You can find them at the Guild Store but there are even more stories waiting to be unlocked when you level up your guild.
How to Download the Game
Now that you're good to go, it's time for you to finally learn how to download this amazing game. Elemental Titans can be downloaded from the Google Play Store or the Apple App Store.
Search for the name of the game, tap Install to download, and wait until the game is fully installed before you tap Open to launch it. Log in using your chosen credentials and start playing.
Conclusion
There you have it! All the things that you need to know about playing Elemental Titans, especially how you can collect new heroes for free are in this guide. Make sure to follow the guide and you should be on your way to becoming the next best player in this exciting mobile game!