If you're looking for a mobile puzzle game that is both unique and addictive, I think it's time that I introduce you to Cube Master 3D. It's a puzzle game where you get to find and pair matching tiles by rotating them.
Created by Higgs Studio, Cube Master 3D is absolutely one of my favorite mobile puzzle games, thanks to its simple yet very entertaining gameplay. All I need to do is to match all cubes before the timer runs out. It's really that simple, yet it is also one of the most enjoyable games that I've played.
The game has taught me to look at the world from another perspective. If you're interested to find out why, continue reading. Let me tell you how to play the game, how to download it, how to get coins, and some tips and tricks with my guide down below.
Test Your Wit with Cube Master 3D
Look at the Tiles Carefully Before Making Your Move
Keep Rotating the Cubes until You Find a Match
Use Hints to Help You Find Specific Tiles
Play as Fast as Possible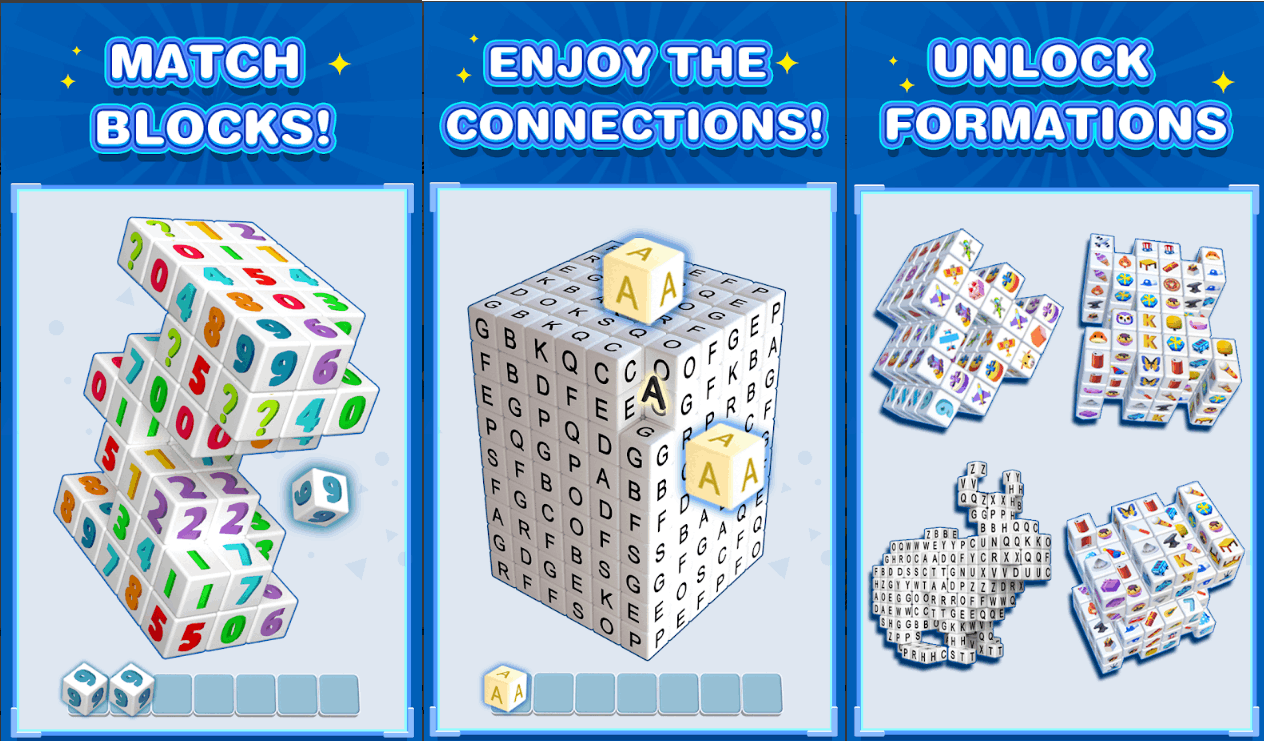 Test Your Wit with Cube Master 3D
Cube Master 3D is a match puzzle game played on mobile devices. While many might immediately say that the game is quite easy to play, there are many times when the game is very tough.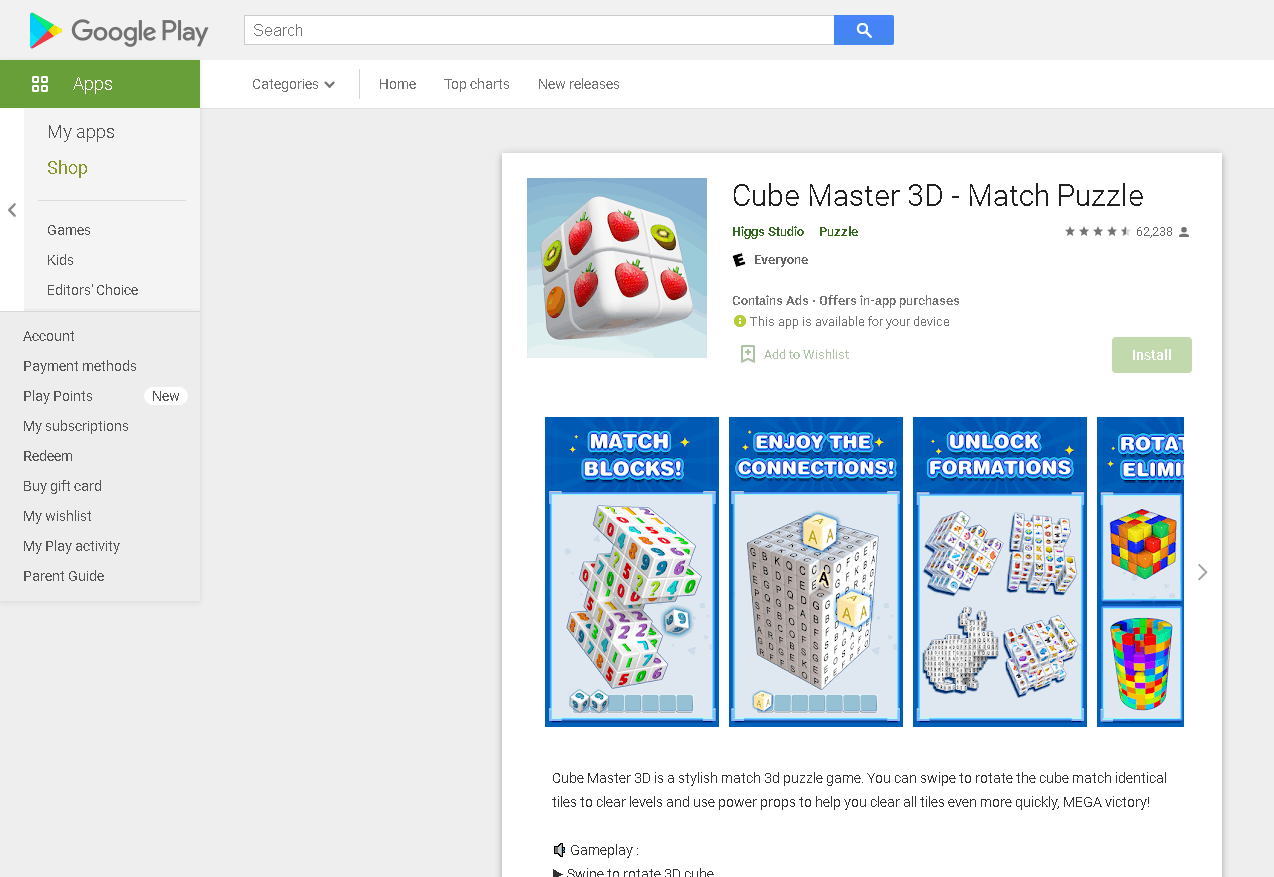 I've been playing the game for quite a while, and for me, it's the right balance of challenging and fun. The first piece of advice that I can give to new players is to play smart. In the game, all you need to do is swipe puzzle cubes to match three cubes of the same type.
The entire premise of the game is very similar to playing a Rubik's cube, but when I match three tiles, they disappear from the entire board.
Here's the kicker; you also need to finish the entire level and clear the entire puzzle within a limited time. This will truly keep you on your toes.
Downloading Cube Master 3D
If you're a fan of addicting puzzle games, you should now learn how to download Cube Master 3D. The match puzzle game is now available on all mobile devices, including Android and iOS through the Google Play Store and the App Store.
Tease your brain and enjoy this captivating puzzle game by downloading it today. Search for "Cube Master 3D" on the platforms mentioned above and tap "Install" to start the download.
Wait until the game is fully installed before you tap "Open" to launch it. Remember, the game also offers in-game purchases, so you might want to add your preferred payment option upon installing it.
Look at the Tiles Carefully Before Making Your Move
In the early stages of the game, Cube Master 3D is less stressful. I was able to find a lot of matches easily in the early first few levels. However, as I progressed through the game, it became more challenging.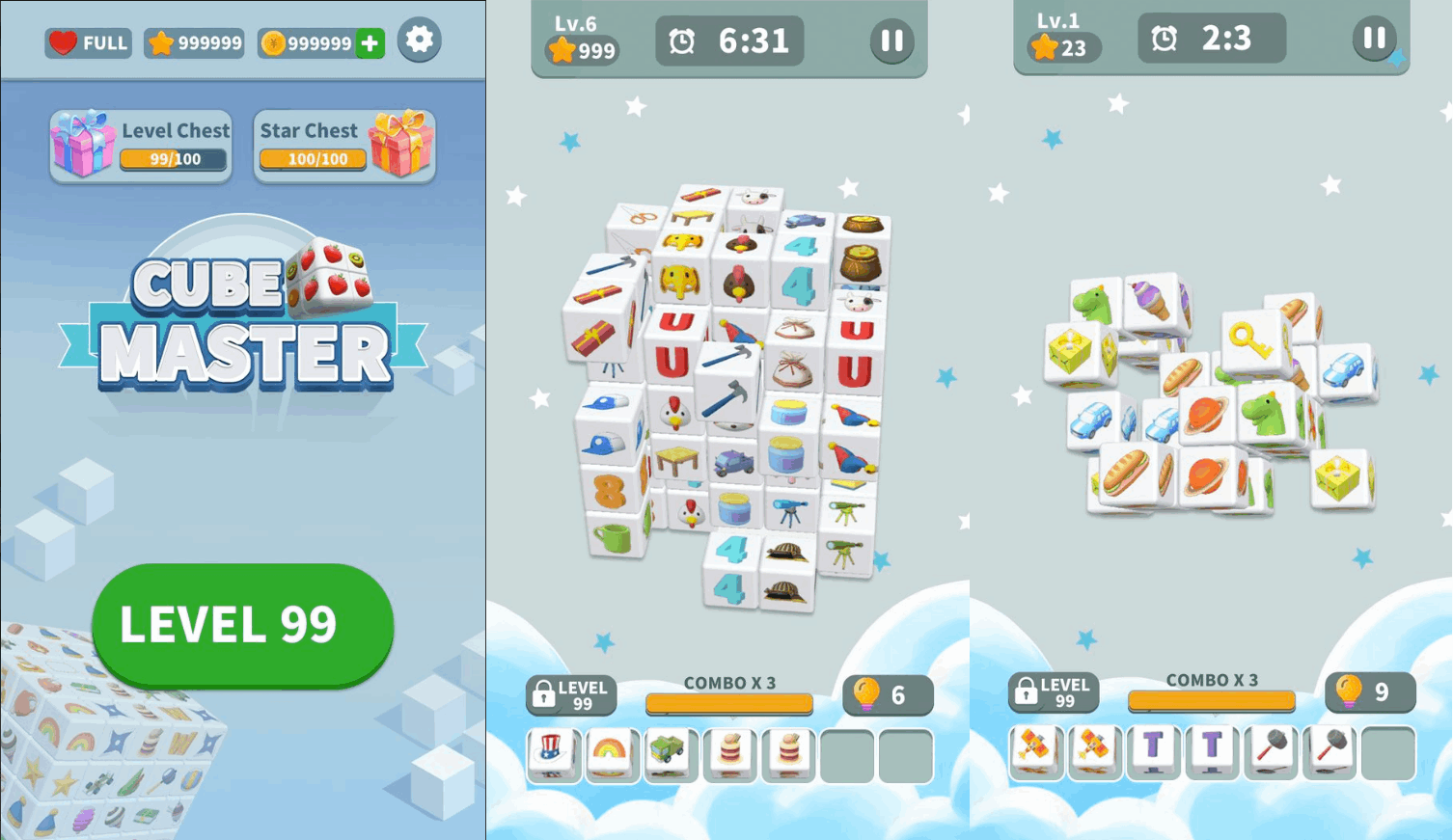 There are many different items that identify each tile. What makes the higher levels more challenging is that these items can look similar. You will have to look at each tile more carefully if you don't want to make mistakes. Examine each item on the tile and see if they match.
Some of the items have subtle differences, and you won't be able to spot them in just a single glance. You will need to compare tiles to spot those differences. One of the best examples is butterflies.
Most of them look almost the same, but you'll determine their differences through the details in their design.
Beat the Clock, and You'll Get More Coins
The main goal in playing Cube Master 3D is to match puzzle cubes until you completely remove all cubes from the board within the allotted time. For beginners, it's normal not to finish the matches before the timer runs out.
Don't feel pressured when it comes to finishing everything at once. You will improve in time, as long as you keep on playing the game.
If you want to earn coins in the game, try to complete the entire puzzle within the limited time frame. This will give you more coins at the end of each level.
Keep Rotating the Cubes until You Find a Match
One of the key elements in playing Cube Master 3D is finding the right match. It is critical that you rotate the cubes until you find a match.
Many players usually stick to just one side of the cube and try their best to find a match. Doing this will never allow you to complete all the matches before you use up all of your allotted time.
My advice is to be quick with your moves and rotate immediately to a different side if you don't find a match on one side of the cube. I always rotate the cubes until I find a match and then move on to the next side to find another.
This will help you reach your goal of completing the level faster. Trust me; you'll want to do this if you plan on winning more games.
Fill Up the Combo Meter to Gain a Higher Score
When I first played Cube Master 3D, my only goal was to finish each level by matching different cubes together. This all changed when I finally got the hang of playing and learned that the game rewards higher scores for players who combine four or more cubes.
Combining four or more cubes results in a combo, and if I do this consecutively, it will multiply my score. Every combo I make will fill up the combo meter, and once it's filled up, it helps me gain a higher score.
Remember that the higher your score is, the more coins you get to earn after each level.
Use Hints to Help You Find Specific Tiles
I know from experience that the game becomes challenging when you reach higher levels. There will be tons of new cubes to match, and each of them has very similar tiles.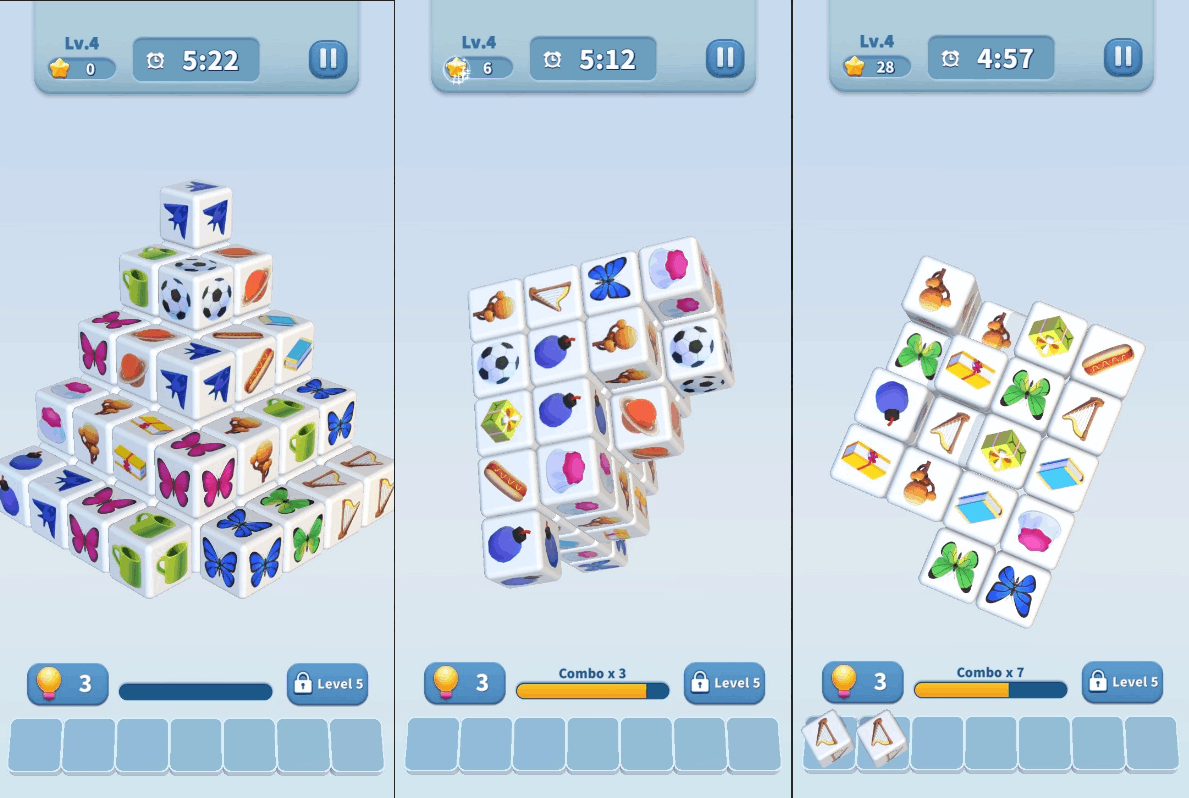 This can be very difficult for those who are used to playing the early, much easier levels of the game. When I was starting out, there were times when I simply could not find a match due to the complexity of the puzzle.
Fortunately, the game provides some assistance to players in the form of hints. Hints are found at the bottom left corner of the screen.
Tap on the light bulb, and the game will highlight the cubes that are similar to the ones you're trying to match. This should allow you to finish the entire puzzle much faster.
Utilize the Revert Option Strategically
There have been a lot of times when I matched certain cubes only to find additional matches. If I had matched them too, I would have created a huge combo. Combos are very important if you wish to earn a lot of points in the game.
This is why the game also has the option to revert your previous move. While many players often use this option to correct their previous mistakes, I do this strategically to match bigger combos and gain even more points.
You only have three attempts at reverting, so make sure that you use this option wisely.
Play as Fast as Possible
One of the most important things that I've learned while playing Cube Master 3D is to play fast. Playing fast is key to winning more levels.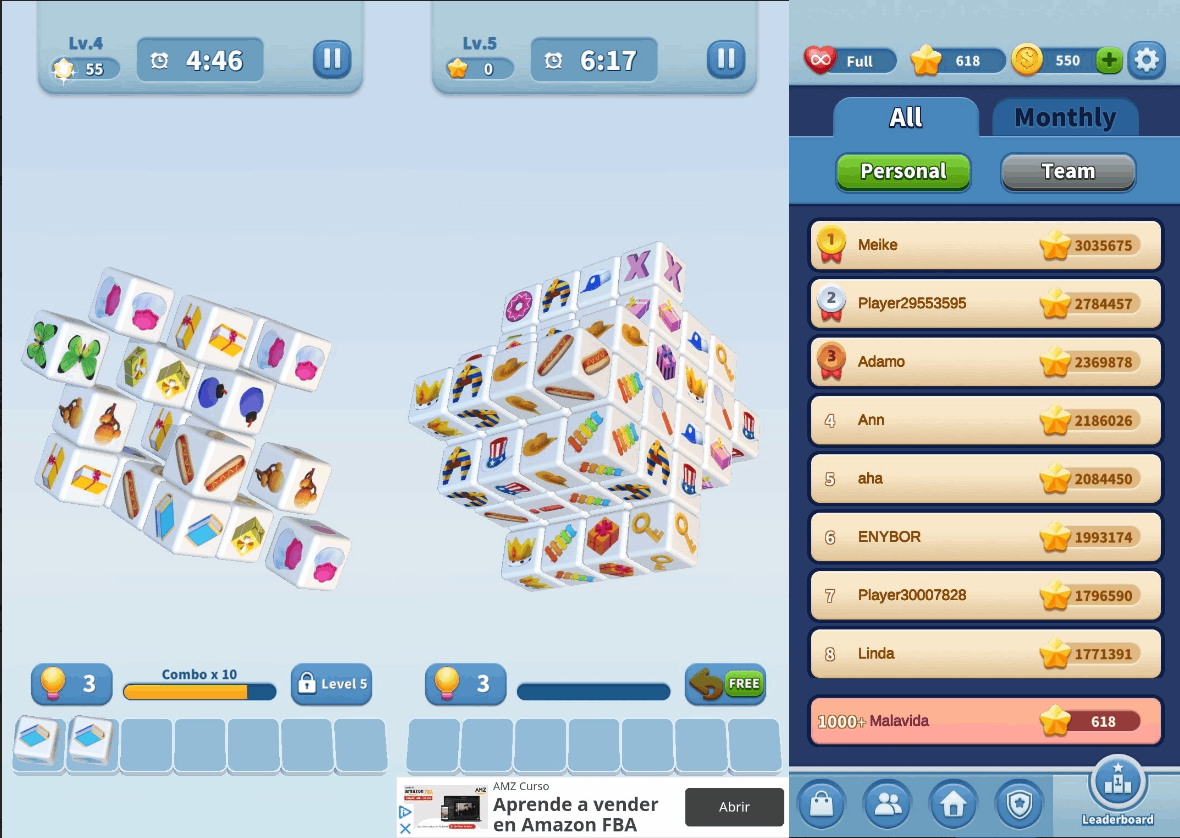 If you play quickly, you'll be able to spot similar cubes and match them together, thus completing the level much faster. The more levels you complete, the more coins you'll earn.
I understand that it takes time to master this, but when you keep on playing, speed will become second nature to you.
Watch Ads and Double Your Prizes
I have to admit that there are a lot of ads in this game. For those who are not fond of ads, it will be a bit annoying from time to time. However, these ads can play an important role in the game.
Not only do the ads help support the game, but they also provide an advantage and double the prizes that you receive after each level.
There is an option to watch an ad after each level, and depending on the current score, you can double or even triple your prizes and rewards. Don't worry; these ads are only 30 seconds long, so they don't take up a lot of your time.
Conclusion
While most puzzle games on mobile devices are very similar to each other, Cube Master 3D is one of the most unique and addictive puzzle games that I've ever played. If you're having a hard time playing the game, check out the tips and tricks mentioned above so you'll have a better experience. Download the game today and have fun playing Cube Master 3D!