Casual simulation games are always fun to play when you need to break. In the past few months, I've discovered a game called Family Island that has slowly become one of my favorite games to spend my time playing.
Family Island is a survival-simulation game where I lead a family stranded on an island and help them survive off the land. The goal is to thrive on the island while also exploring the landscape and uncovering treasures. It's a farm simulation, and adventure game rolled into one.
If you want a game that will keep you busy for several hours, Family Island is the best game to play. Here are some tips to help you understand the basics of the game, learn how to get energy, where to find treasures and gifts, and more in my guide below.
What Family Island Is All About
Make Sure Everyone Is Doing Something
Cook Dinner to Get Energy for Your Family
Take Advantage of the Shop
Explore the Island and Collect Gift Boxes for Rewards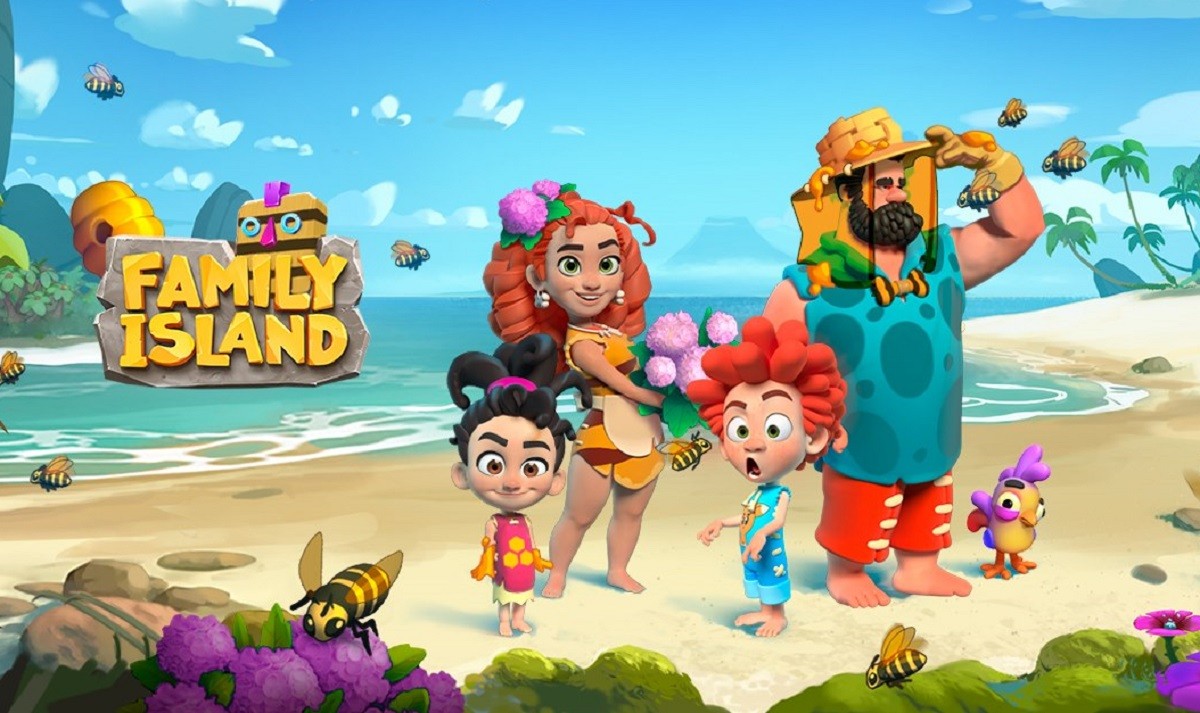 What Family Island Is All About
Family Island is a survival mobile game where a family is left in a deserted village where they must work together to rebuild it and thrive. Each family member must participate and contribute to the development of the village for their lives to flourish.
In this game, players control each member of the family to work on different tasks and get rewards in the form of resources and other items.
Players will then have to contend with many other factors in the game as they unlock more features and level up in the game. Everything about Family Island is all about teamwork and resource management.
It's a highly-strategic yet fun game to play alongside a good storyline that will help you develop a genuine connection to the characters.
Where and How to Download
Family Island is now available for download on all mobile devices including Android and iOS smartphones. If you're interested, go ahead and download the game through the Google Play Store or the Apple App Store.
Search for the name "Family Island — Farming game" and tap "Install" or "Get" to download to your device. Wait for the game to finish installing and then launch it by tapping "Open" or by finding it in your device's app tray.
Be sure to set up your payment method before launching the game if you wish to purchase in-game items through their store.
Make Sure Everyone Is Doing Something
At first, it was overwhelming to think that I would be starting the game with just mere resources. Being stranded in the middle of nowhere and stuck on an island is not something that I would want to experience let alone have an entire family to feed and take care of.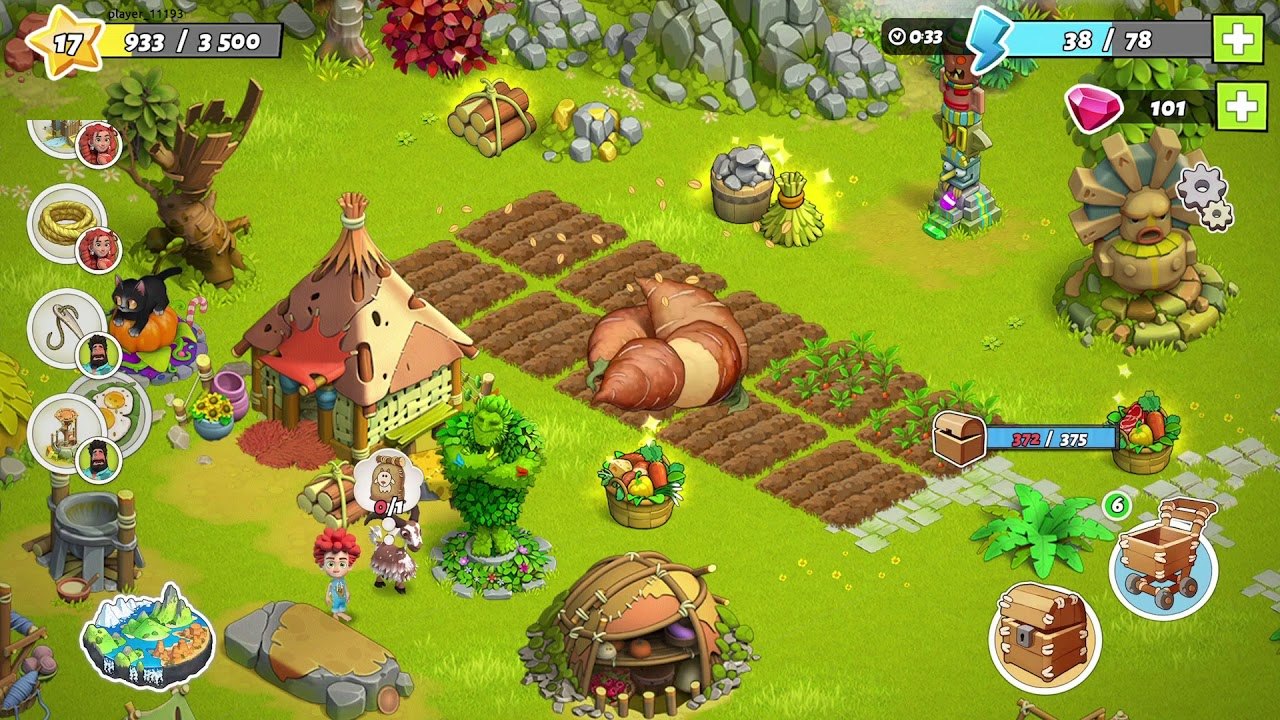 It was then I realized that I had to start moving these characters and assigning them tasks to do.
I have to assign tasks such as gathering resources to some members while the others are tasked to build the shelter.
Others can be assigned to hunt for food or start a farm or maintain it. Whatever I do, I always make sure that everyone is doing something. No character is idle whenever I'm playing the game to ensure that productivity is high.
Check for Objectives
The more tasks that I perform, the more experience points I begin to collect. Soon, I was able to level up and unlock more features in the game. The storyline also begins to move forward when I level up in the game.
Many of the characters begin to explore new territories, such as the nearby rainforest. Around this time, the game also begins to provide me with several objectives. The list of objectives can be found on the menu on the left side of the screen.
Tap on the menu to receive tasks and complete objectives to unlock new items and rewards including experience points and new tools. Always check on this option regularly to see if there are new objectives to meet.
Cook Dinner to Get Energy for Your Family
Energy is highly useful for each of the characters in the game. As I send them out to do tasks, they often require energy to continue doing them. Characters who have low energy will result in low production so it is imperative that I always revitalize them with energy.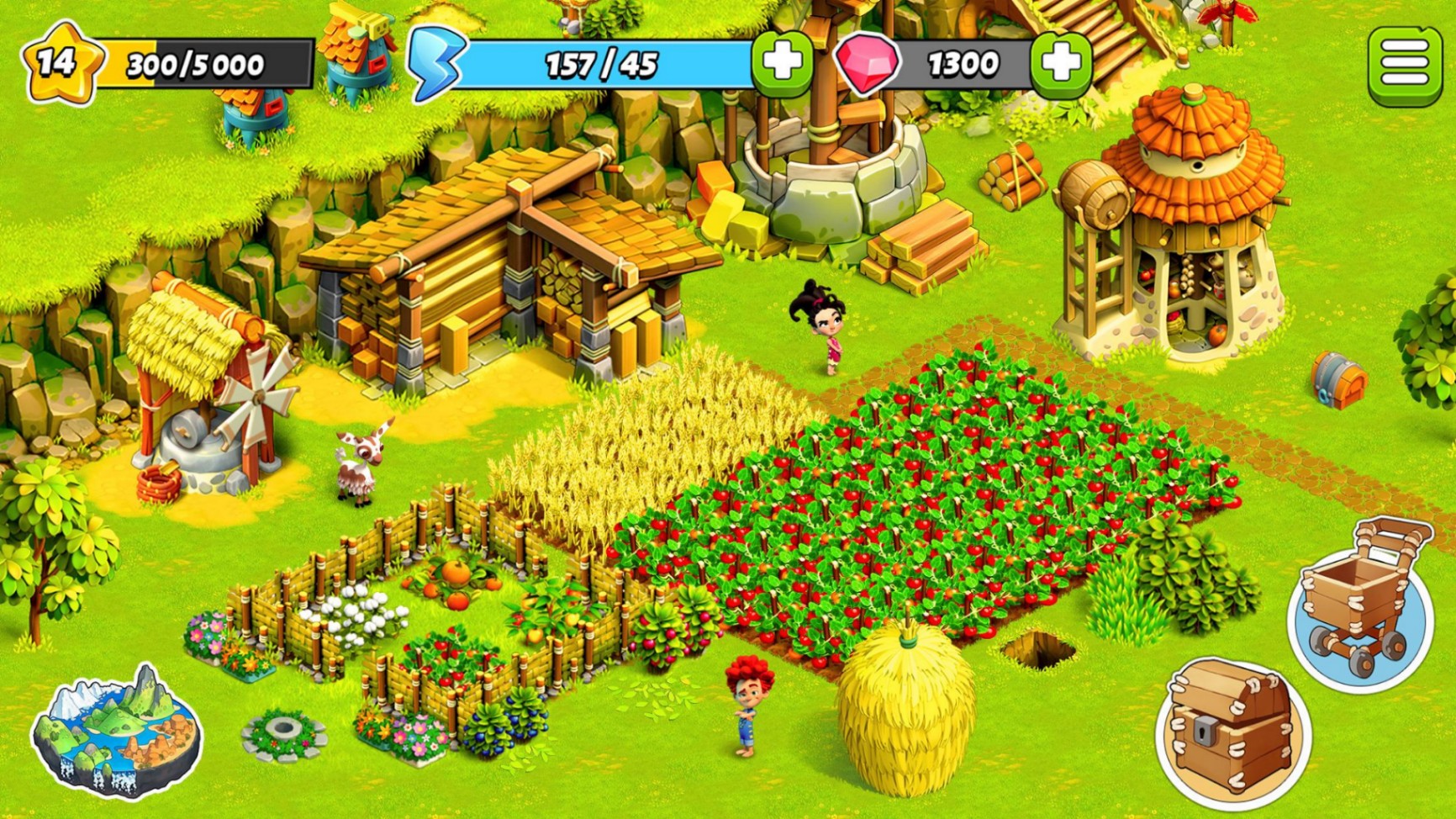 One good way to provide energy for the whole family is to cook dinner for them. Tap on the campfire and choose a list of food options to prepare.
Gather the ingredients by dragging them from the inventory to the campfire and serve them to them once done. This will replenish their energy levels so they can continue to perform their tasks.
Apart from that, you can also use real money to inject energy into your characters immediately without having to wait for food to cook.
A Wide Selection of Food to Prepare and Consume
Now you know that food is the main source of energy for the family to continue doing tasks, as well as for you to continue playing the game. There is a lot of food to prepare so it is best that you sharpen your skills in cooking from the get-go.
Initially, I relied on gathering berries and fruit in the nearby forest to sustain my energy levels. But as the game progressed and more tasks demanded more energy, I realized that it was best to rely on my cooking skills instead.
Preparing food is key to getting free energy for your family but the kind of food you prepare is equally important. Scrambled eggs and roots are sufficient at providing energy early on, but meat such as chicken and goat provide high levels of energy that is long-lasting.
Take Advantage of the Shop
Many of the items that I need in this game take a lot of time to come to fruition. Patience is key when playing this game, but it can be irritating to know that it takes several hours just to produce a crucial item.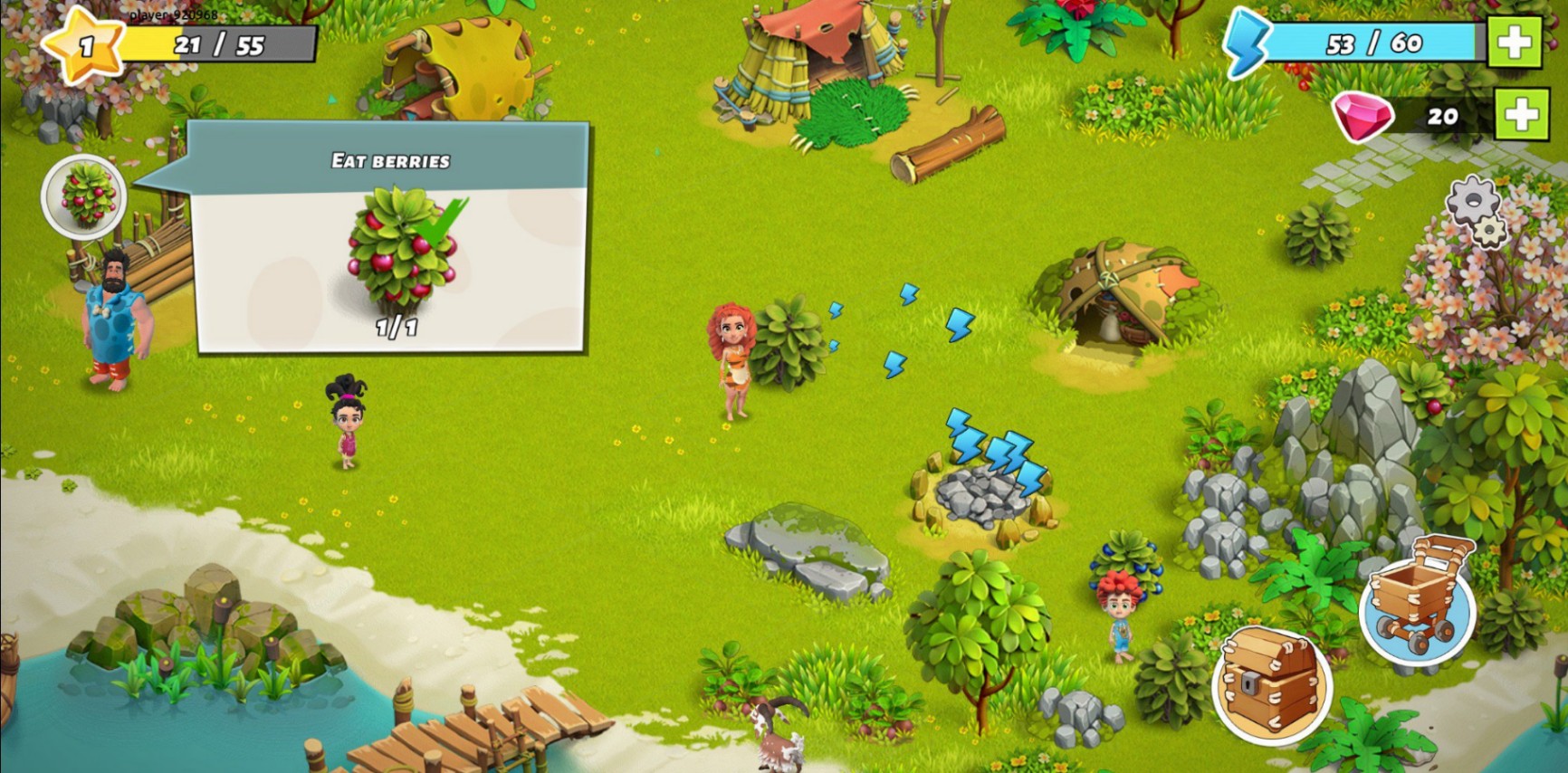 Players who are running low on patience can find other options through the in-game Shop. The Shop contains a lot of the unique items that are found in the game.
The items are categorized based on the in-game currencies used to purchase them. This is the place where you might be tempted to use real money to purchase the items that you need.
Look carefully and see what you need, and try to save some resources while you're at it.
Trade with the Merchant
Around level 7, I found myself having trouble with finding more resources and new items in the game. It is also around this time that the game unlocks a new feature called the Merchant.
The Merchant offers different orders for me to complete in exchange for goods such as free energy, new items, animal feed, and many other resources.
For those who don't want to spend real money at the in-game Shop, the best way to earn these new items and get rewards is to go through the Merchant and complete orders. It's easier this way and doesn't cost you a single penny.
Explore the Island and Collect Gift Boxes for Rewards
Exploring the island is a great way to discover new items and resources. Along the way, I can also discover new ways to earn rewards.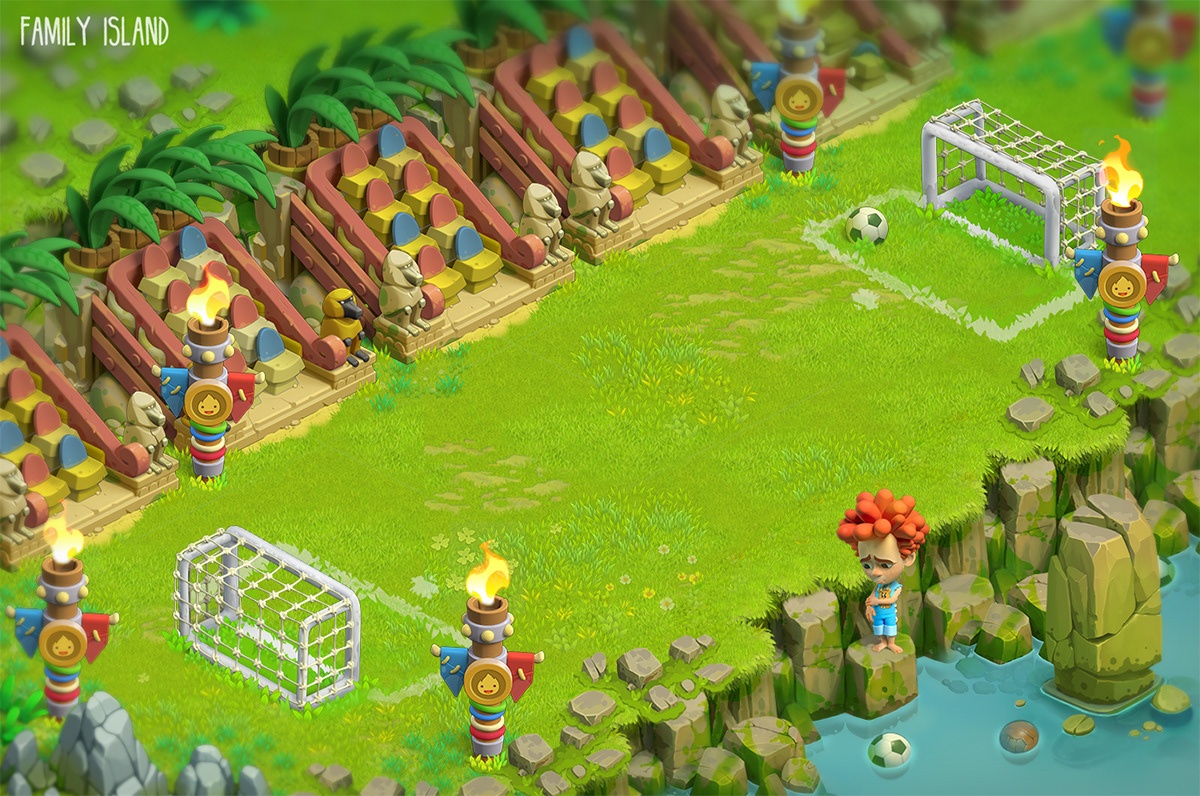 Gift boxes are scattered all over the island and the best way to unveil them is through exploration. Whenever I see one, I always grab them and open them immediately.
These gift boxes are often found in areas with tall grass and sometimes, behind trees. I have to cut them down to reveal them.
There are also times when they're hidden in plain sight so be sure to uncover everything you encounter.
Expand Your Horizons
Family Island is not as restricted to a single island as I thought it would be. Further exploration has helped me realize that several more islands are waiting to be discovered in this game.
By exploring more islands, you can find plenty of resources to help you survive and thrive in your village. Other islands also offer valuable gift boxes and new treasures waiting to be discovered.
Go ahead and explore the other islands, but be sure to come back and continue developing your own island to be able to continue leveling up in the game.
The Bottom Line
I have so much fun playing Family Island especially when I'm on a break from work. There are so many areas to explore and features to unlock for players who want to invest their time in this mobile game.
Apply the tips mentioned above, especially when it comes to collecting energy, so that you can continue improving your life on the island.