There is something so satisfying about knowing and retaining tiny, obscure bits of information from here and there. This makes trivia and trivia games a popular hit at parties and gatherings. However, exercising your trivia is not just limited to TV shows and card games anymore!
The world of trivia has now expanded into hundreds of thousands of trivia apps and games right on your smartphone. These apps and games are diverse and range across different formats and themes. This article covers 10 such exciting smartphone trivia games that you can enjoy.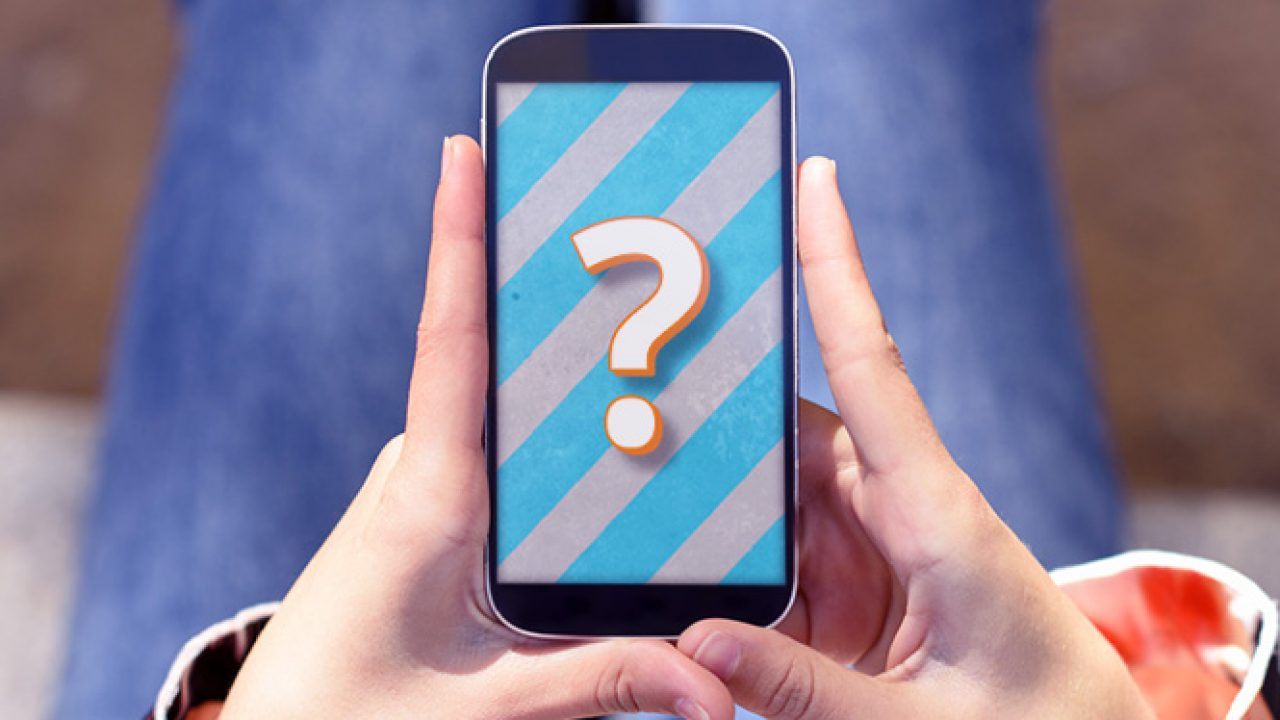 Quizzland
Backed by great reviews and a rating of 4.7 on the Apple App Store, Quizzland has a collection of over 40,000 trivia questions and offers detailed explanations after answering each.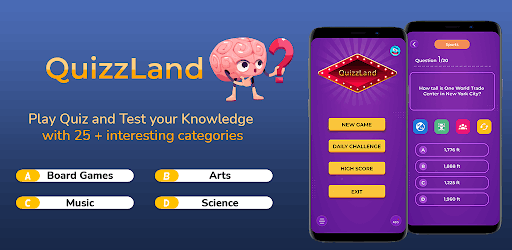 The questions are organized into Easy, Medium, and Difficult levels. The more difficult of the question, the more points you earn! The Quizzland app supports Multiplayer mode along with a Solo mode. Correct answers earn you coins which, in turn, help you buy hints and upgrades.
Are you struggling with a particular question and cannot move ahead? Quizzland, with a variety of hints and clues, has you covered! Quizzland is available for both Android and iOS. It is free to download and contains in-app purchases ranging from $0.99 to $19.99 per item.
Who Wants to be a Millionaire?
This game is the official smartphone application version of the much beloved trivia game show – Who Wants to be a Millionaire? The best part about the game is how close the design is to the original TV show with 50:50, Expert Advice, and much more!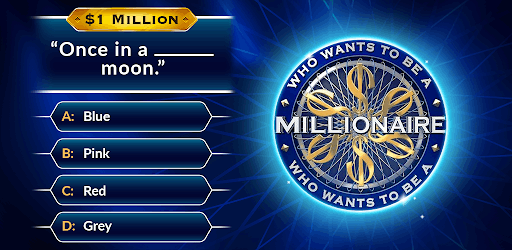 The game is constantly updated with new trivia and features, such as the option to collect and train experts like Shakespeare, Einstein, Napoleon and more for the Expert Advice feature. The app is based on traveling from city to city to give the ultimate "Millionaire" experience.
The Who Wants to be a Millionaire app is offered by Sony Pictures Television and is available to download for Android and iOS. The game is free to download but certain premium upgrades can be bought at a price. This prices range between $1.99 to $99.99 per item.
Trivia Star
The uniqueness of the Trivia Star app is its system of earning coins, making it much more competitive than usual. Coins earned can then be used for buying hints for questions that you do not know the answers to.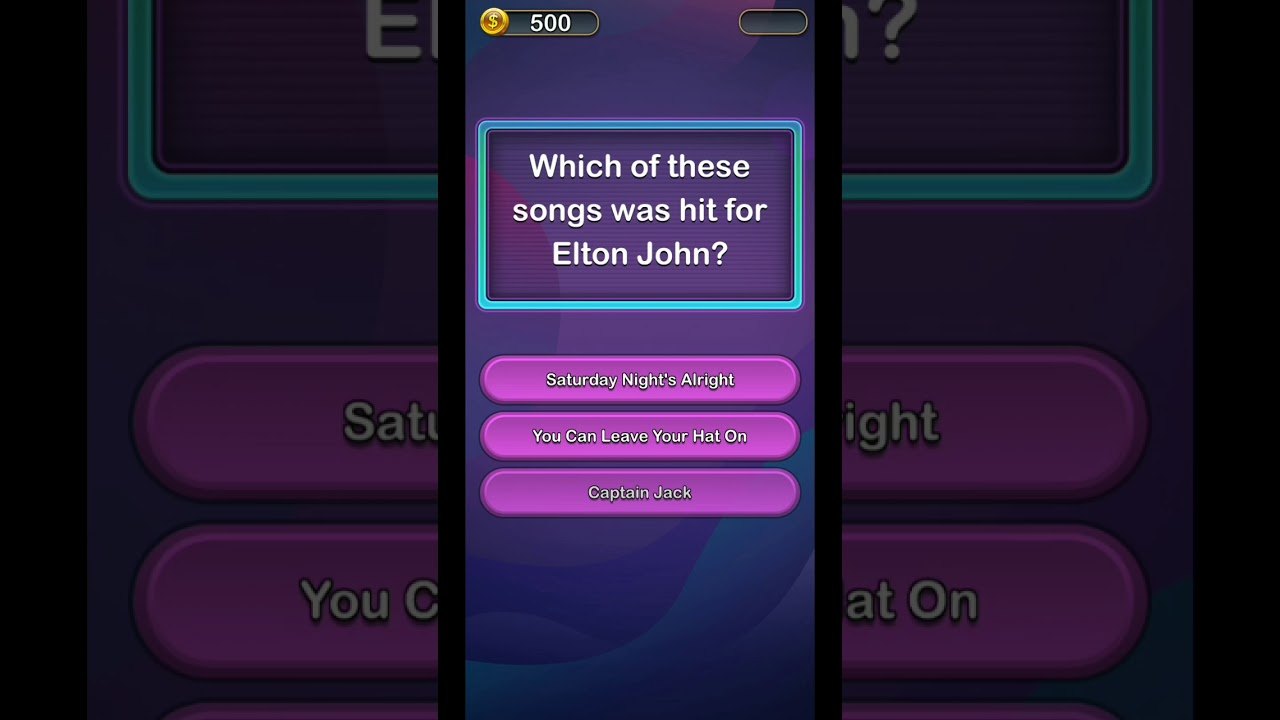 The number of questions on Trivia Star is seemingly endless, and the questions range across 60 categories and are arranged into over 1,000 different levels with increasing difficulty.
The app also features an offline mode to play non-competitively at leisure. It is available on the Google Play Store and the Apple App Store for free.. Extras and upgrades range from $0.99 to $199.99 per item.
Trivia Crack
An Editor's Choice app on the Google Play Store, Trivia Crack is surely one of the best mobile trivia games to have ever existed. One of the most colorful and interesting apps on this list, Trivia Crack is packed with features.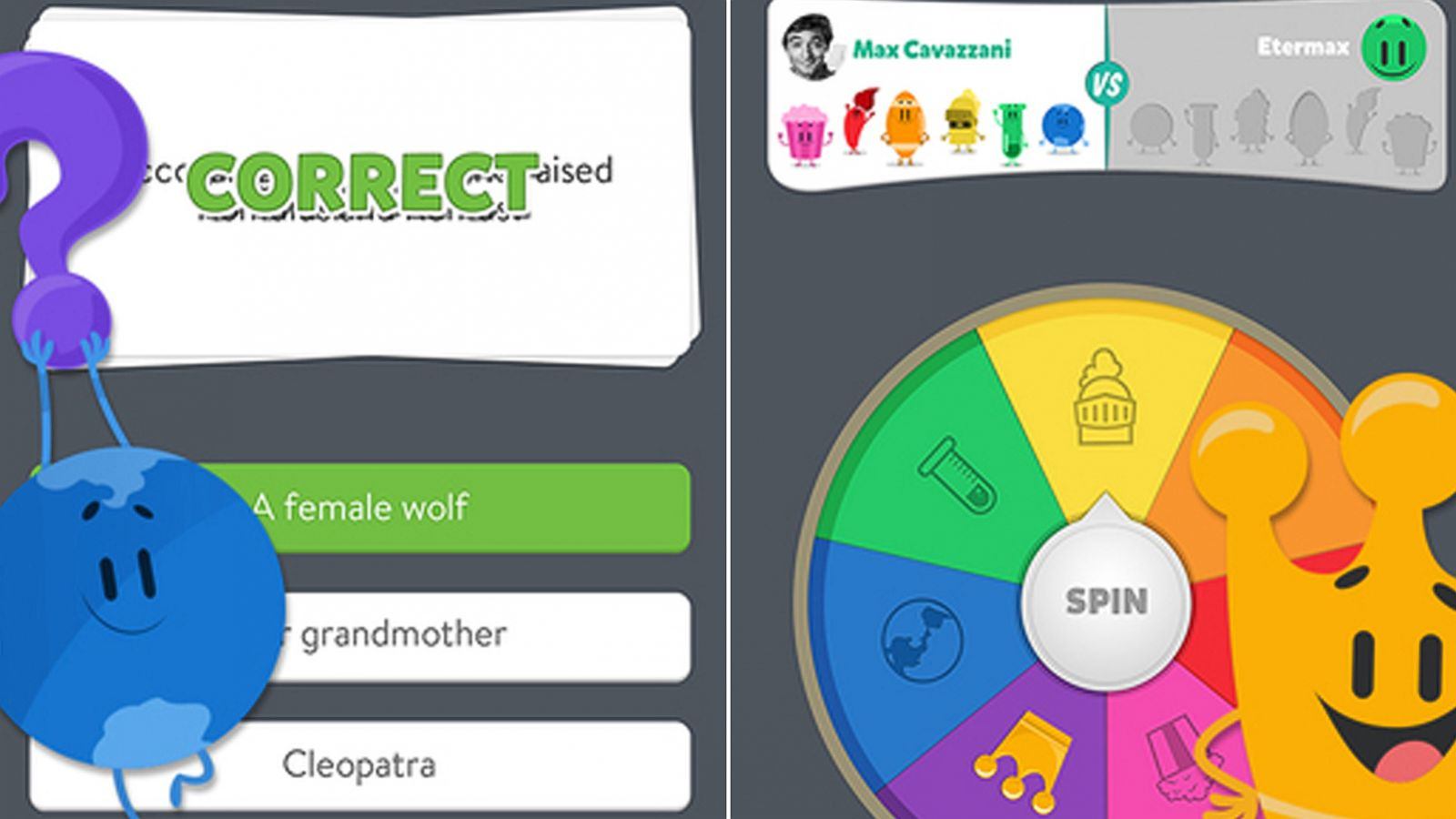 First, it not only tests your trivia knowledge but lets you collect cool characters by answering questions correctly. It includes a variety of topics like science, general knowledge, and sports and consists of exciting, new game modes like Triviathon, Survival and Treasure Mine.
Numerous missions help you earn coins and level up. You can even keep a pet and participate in special app events. Trivia Crack is free to download for both Android and iOS, with in-app purchases ranging from $0.99 to $199.99 per item.
Trivia 360
With stellar reviews on the app stores of both Android and iOS, this is not a game to be missed by you quizheads! Trivia 360 is one of the most challenging trivia games ever, but its uniqueness lies in its simplistic user interface.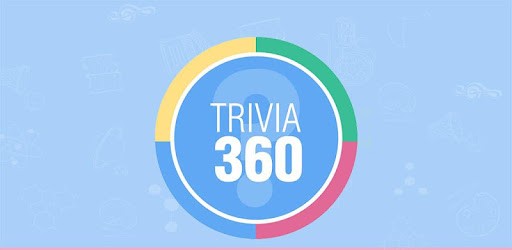 The trivia questions belong to many different categories. Whether you're in the mood for competitive timed multiple choice questions or you're more of a puzzle-solving person, Trivia 360 has got all your quizzing fantasies covered.
The more questions you get right, the higher up you rise in the leaderboard! Trivia 360 can be easily downloaded and installed to all mobile devices and in-app purchases are just $1.99 per item.
Sporcle
If you are serious about levelling up your trivia knowledge this year, Sporcle is the app to go for! While the game challenges beginners to the core, for avid trivia enthusiasts, it adds the much needed competitive boost to their quizzing sessions.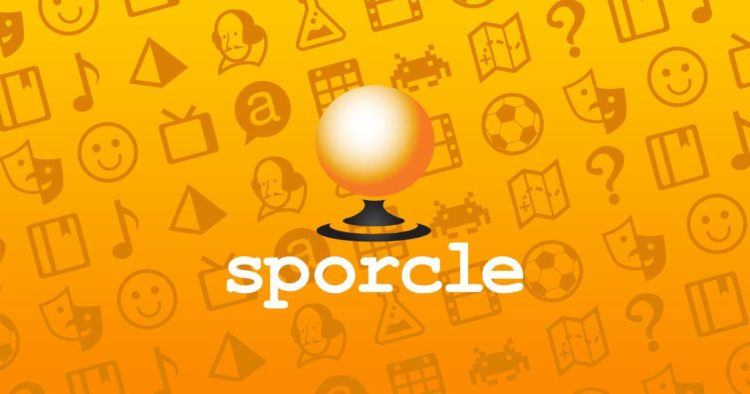 For instance, instead of the plain, conventional multiple choice questions, Sporcle questions need answers in a written format. The game comprises 15 crisp categories that include questions from almost every sphere of knowledge in this world.
Check out what other players have to say about each quiz and compare your scores against theirs. The game also provides in-depth statistics for you to analyze and improve your performance. Sporcle is free for both Android and iOS devices. In-app purchases range from $0.99 to $59.99 per item.
Quizoid
Quizoid is one of the most popular trivia apps of 2021 and its ratings on both Android and iOS app stores are evidence enough. The user interface of the app is simple and easy-to-access and boasts countless unique features.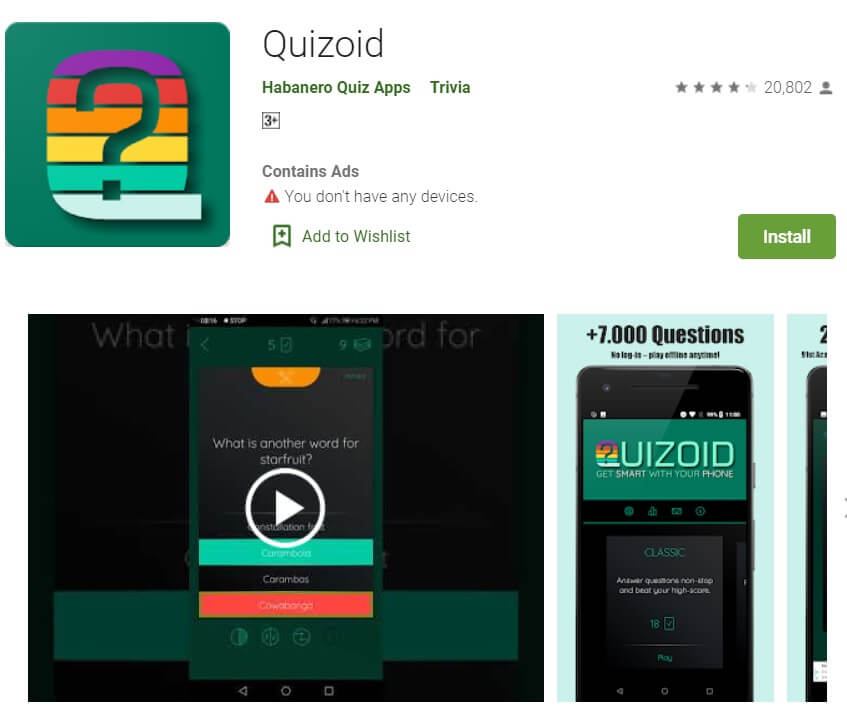 The most striking feature of the app is how thoroughly updated it is, containing trivia from as recent as 2020. Quizoid consists of a whopping 7,000+ trivia questions arranged into 10 distinct categories and three exciting modes.
You can flip between black and white layouts and even access detailed statistics of your game performance. Quizoid is developed by Habanero Quiz Apps and is completely free to download and install from the Google Play Store and the Apple App Store.
HQ Trivia
Have you ever wondered how wonderful it could be to utilize your immense trivia knowledge for something beyond points and virtual coins? If your interest lies in cashing in on your trivia talent, the HQ Trivia app is just for you.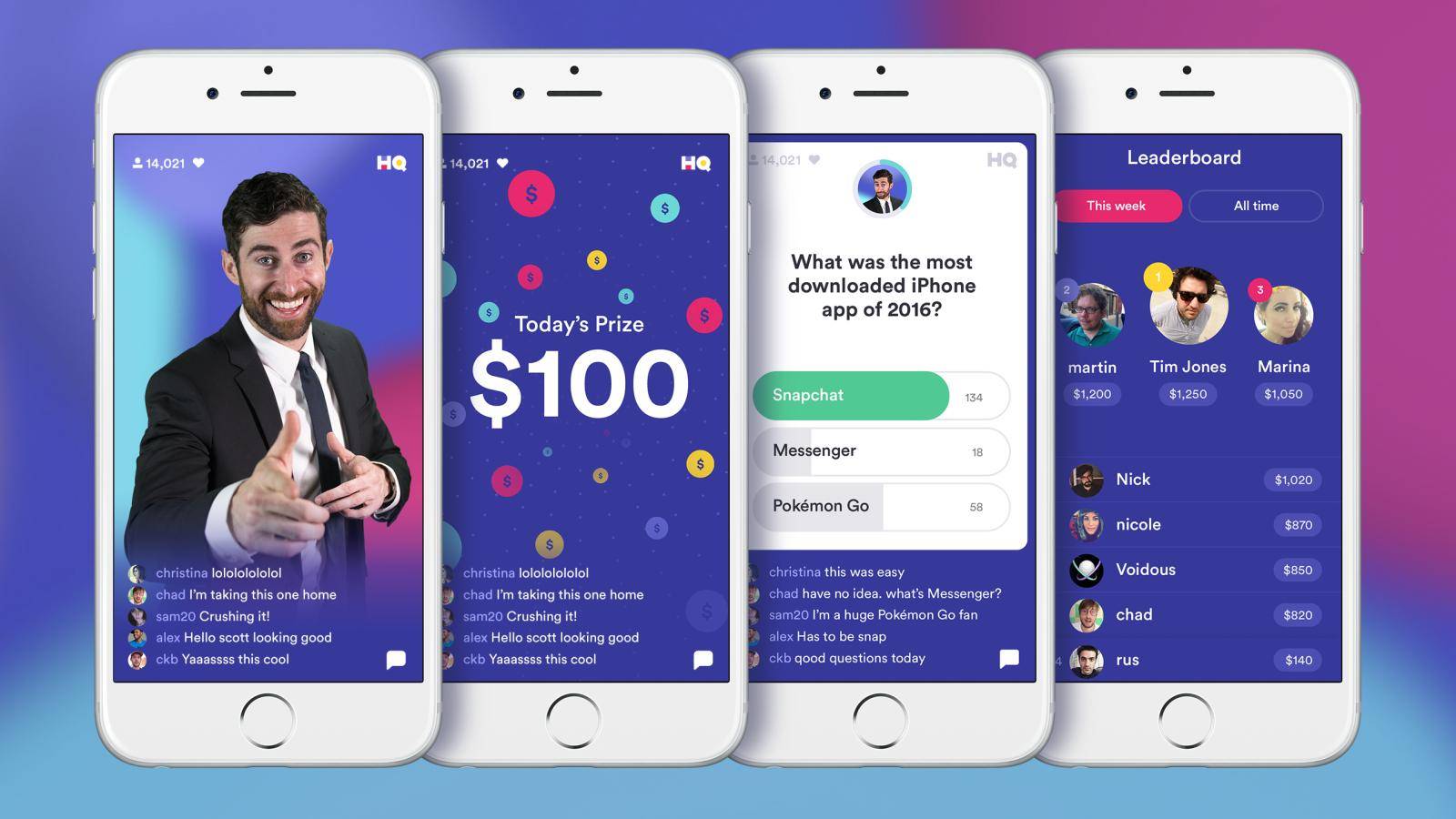 It is a live game show app on which users can play trivia contests daily and win actual cash prizes! The HQ Trivia app, in addition to being absolutely engrossing as well as challenging, carries significant clout. It boasts celebrity guests including Gordon Ramsay and The Rock.
Having been featured by the likes of ABC, CNBC, The New York Times and so on, 5 million downloads on the Google Play Store are no surprise. HQ Trivia is developed by Intermedia Labs and is also available on the Apple App Store.
Popcorn Trivia
What is the one thing that goes hand-in-hand with popcorn across the world? Movies! As the name suggests, Popcorn Trivia is all about movies and movie trivia. For the movie fan who is constantly quoting iconic movie dialogues, Popcorn Trivia should be your go-to trivia app.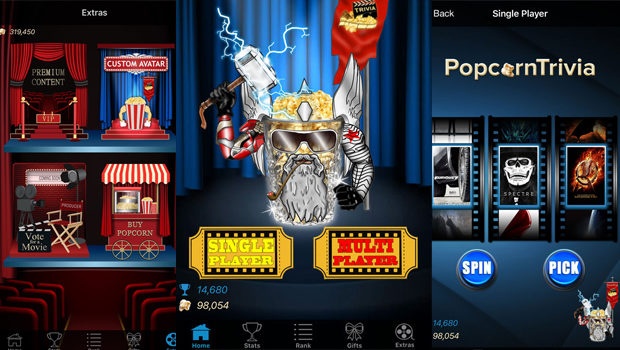 This movie trivia game covers every single movie genre and is made more addictive with features like creating your custom Popcorn Avatar or voting for a movie. Gamification is thorough, including ranks named as Studio Head, Location Scout, Cleaning Crew and so on.
Popcorn Trivia, developed by CustomPlay LLC, offers both single-player and multiplayer modes and is available for both Android and iOS. It is completely free to download and can be done so from the Google Play Store for Android devices, and the Apple App Store for iOS devices.
Jeopardy!
With a catalog consisting of 26,000 categories, the Jeopardy! mobile app is a mirror of the wild success of the original game show.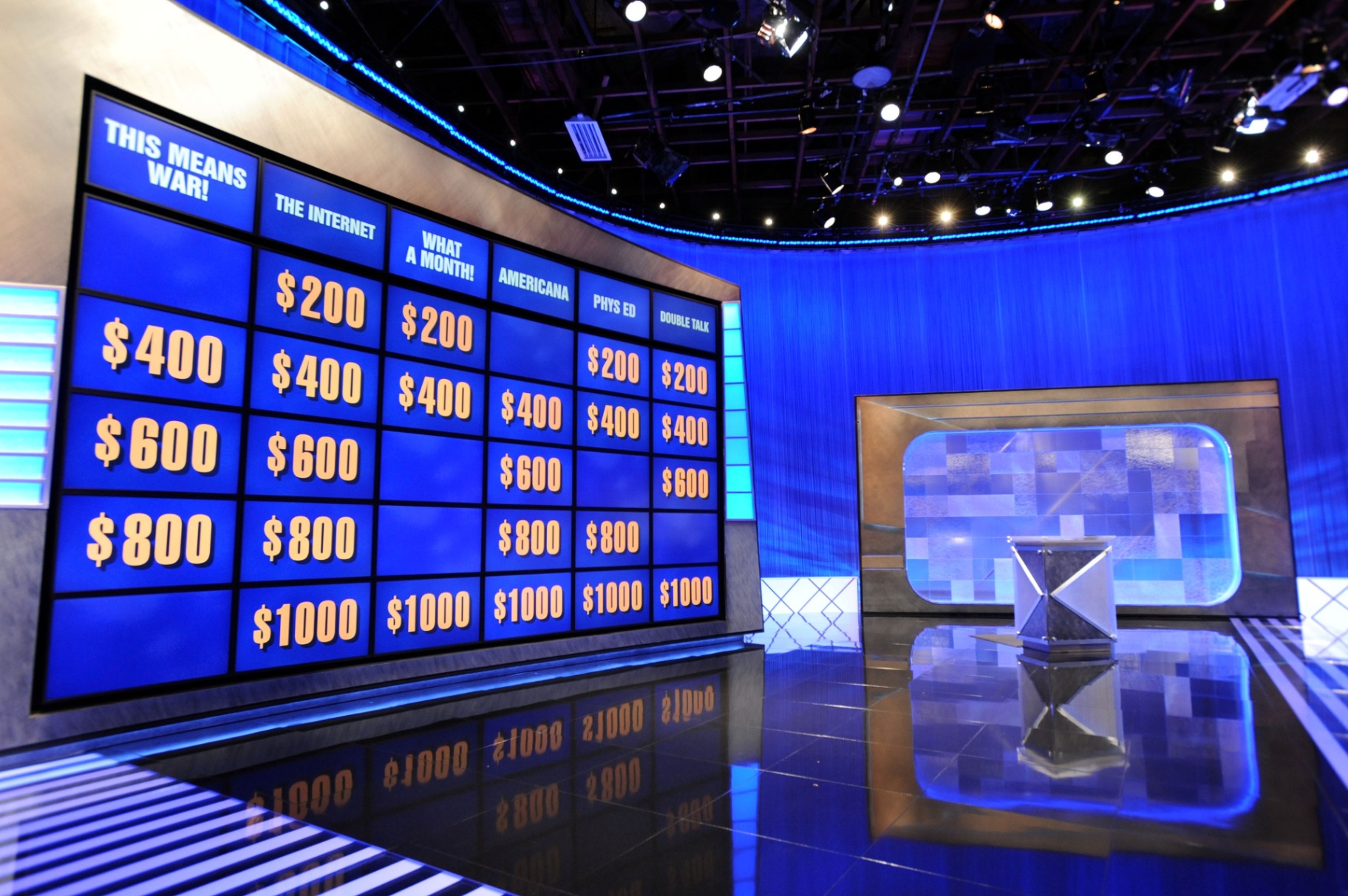 The game revolves around a trivia tour of the world with Jeopardy! host, Alex Trebek. In every city, you uncover new trivia questions, face more challenging opponents, and earn more exciting rewards.
You can compare your scores against other competitors and maintain a win streak by winning maximum matches. Through features like Daily Double and Final Jeopardy, you can boost your score exponentially. Jeopardy! is free for all Android and iOS devices. In-app purchases range from $1.99 to $99.99 per item.
Conclusion
Trivia contains an endless amount of knowledge and does not have a beginning or an end. It is everything about everything and there is always something new to be learned. This is why trivia games exist! Playing trivia games like the ones listed above on your mobile phones helps to make this learning easy, fun and accessible for all.
Most of the aforementioned apps are free to download and play and all of them are available for both Android and iOS devices. If you want to make your trivia journey fun and exciting, these apps are the way to go!