Are you fascinated by lethal guns and stomach-churning action that makes you forget everything else? If yes, then Modern Ops is the perfect game for your thrill-loving personality. This multiplayer online FPS game is breaking charts and conquering hearts all because of its intuitive gameplay.
Challenging gameplay and 3D graphics aren't all that this game offers. Its immense features like killstreaks, drone fights, different gaming modes, and exciting ammunition, are sending the entertainment benchmark to another level.
For all those who admire this game and want to know about everything that it offers, then the article below is what you are searching for. Let's get started with the essential details of how to download and play Modern Ops.
About Modern Ops
How to Download Modern Ops
Unique Features of Modern Ops
How to Play Modern Ops
How to Download Modern Ops on PC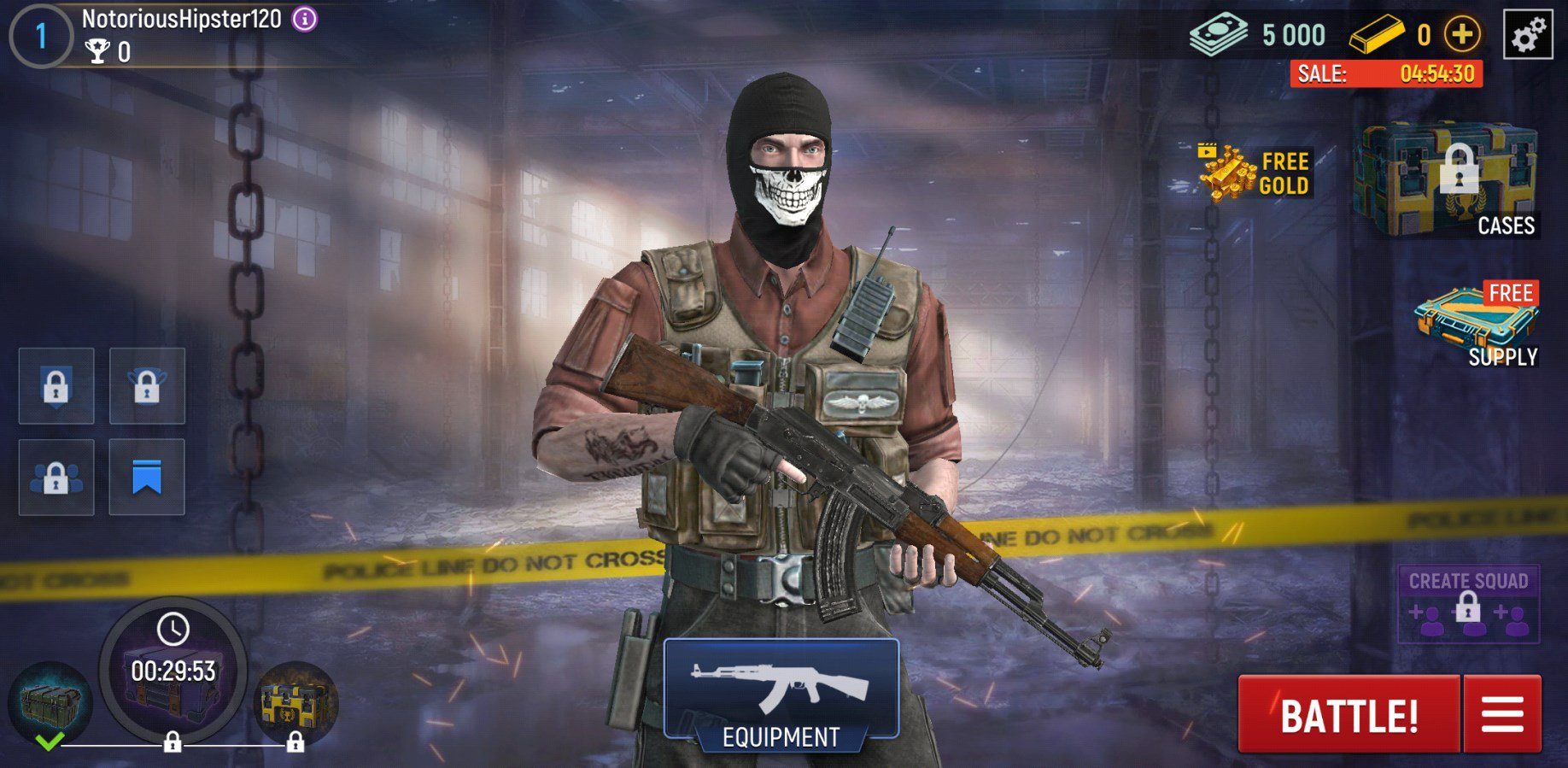 About Modern Ops
Modern Ops is a multiplayer FPS action gun shooting game developed by the Edkon Games GmbH, inspired by Counter-Strike. In Modern Ops two teams, one terrorist and the other anti-terrorists, face each other inside medium-size settings.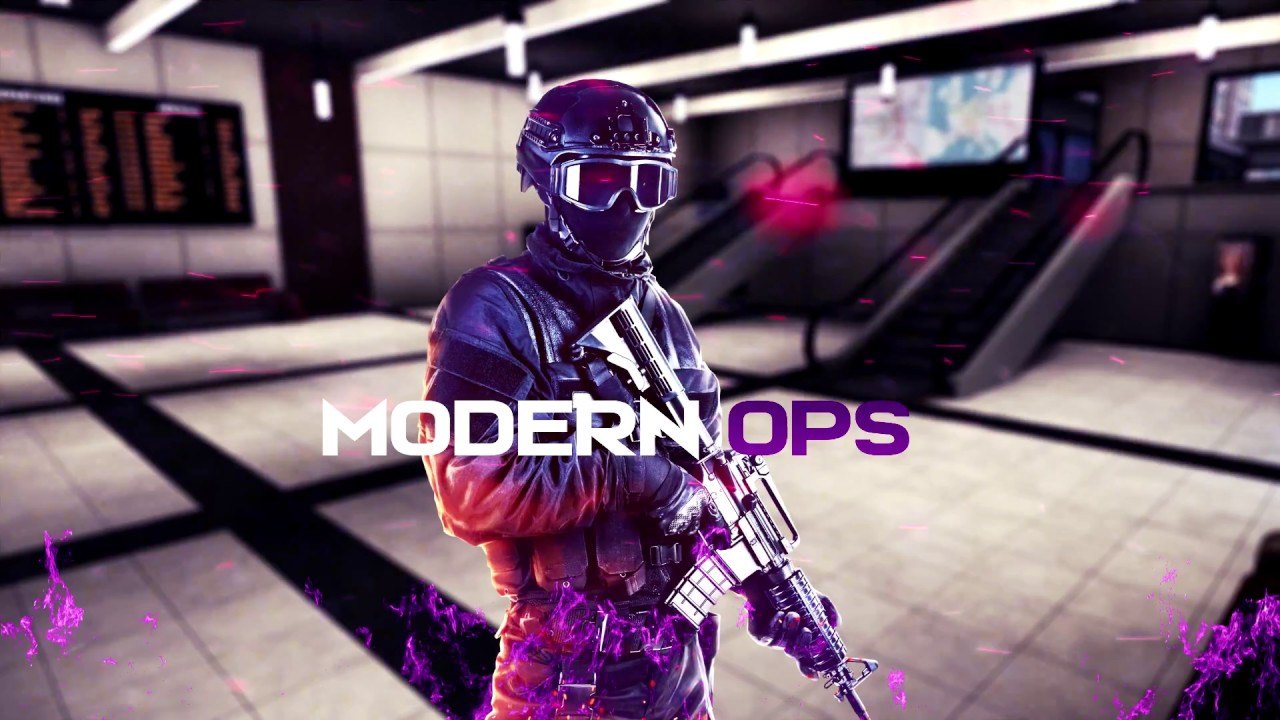 The main objective in each setting is to score higher than the enemy and get away with as many possible rivals.
The dynamic game lets you clash with other players across the globe with never-ending fun and action in different modes.
Tons of ammunition and a variety of skins engage you more in the game with its convenient gameplay. Focus on maintaining killstreaks and try to build your own clan so that you can form a team with your friends.
Modern Ops Game Map
The game map of this arcade is diverse. It's where 15 different teams struggle and fight to win battles in different situations. The game has three different modes that keep increasing with every update so the adventure quotient never dulls.
The gaming controls are well-designed and fully compatible with touch screens of mobiles and tabs. While playing, you can also change your weapons, reload your guns, duck, or jump on the right side of the screen to escape enemies.
Always keep in mind that your character will shoot automatically if there is an enemy within your range. If your own character gets killed in Modern Ops, you don't have to wait for the movements of other team members, instead you will respawn almost instantly.
How to Download Modern Ops
You can download Modern Ops for Android devices by visiting the Google Play Store and searching "Modern Ops" in the search box. You will further be directed to the app's download page, where you click on "Install" to download the app.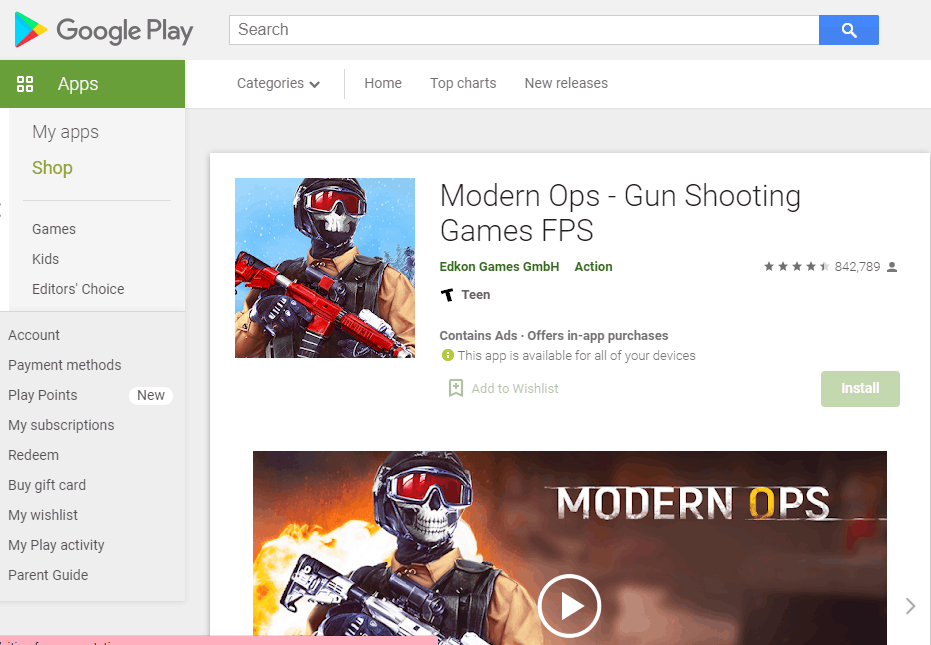 Users of iOS devices can download Modern Ops from the Apple App Store by searching the app name in the search bar. Click on "Get" to download the app. You will be asked to fill in your Apple ID and its password before downloading it.
The game will require iOS version 11 or later and a minimum of 682M free space in it.
For Android users, you must have 515M space in phone storage to download the app.
Cost of the Modern Ops App
While the app is completely free to download on both iOS and Android devices, it contains in-app purchases. These purchases are for various types of equipment, ammunition, and more inside the game to upgrade your efficiency while playing.
In-app purchases range from a minimum of $0.99 to a maximum of $9.99. All these purchases are made in exchange for gold and credits that are used inside the game.
The most expensive purchase is for the Tons of Gold pack which costs $99.99. The three least expensive packs cost $0.99 and are Gold and Credits, Credit Case and Lots of Gold.
Unique Features of Modern Ops
There is a trail of online games that have a multiplayer format but these allow only four to five players to play at a time. But with Modern Ops, up to 10 players can participate in PVP action games, join team battles, and fight against players from all over the world.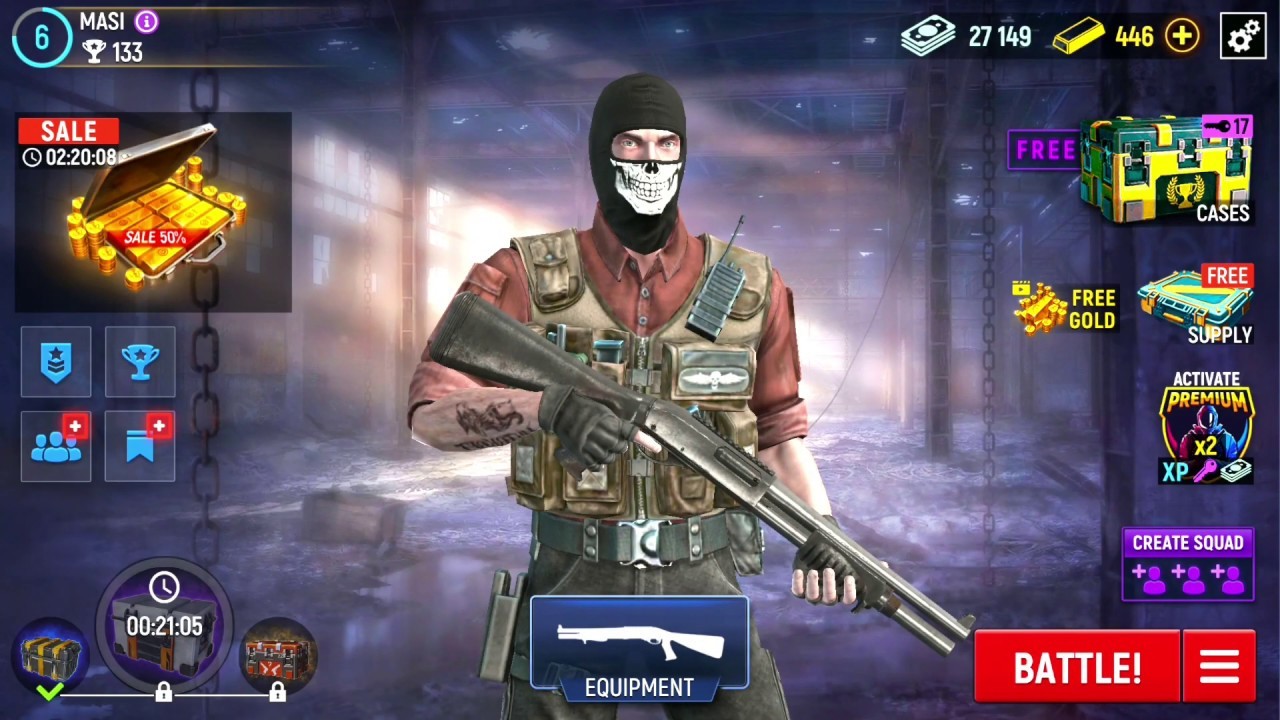 There are more than 30 guns and pistols that help you choose the best weapon for your gameplay.
You can develop your own shooting tactics with the kind of gun you choose, from shotguns to snipers and machine guns to assault rifles, you get a variety of options to attack with.
To make your game strategy different from the others, you can use killstreaks such as sentry guns, drone strikes, and rocket launchers to make a powerful army. Complete contracts, contract missions, and quests with your friends and get promoted to higher leagues.
Intuitive Gameplay
The Black Squad of Modern Ops is competitive with free FPS shooters for its easy and intuitive controls, vivid 3D graphics, and exciting gameplay.
All you have to focus on is accomplishing your duty and play as a counter-terrorist. The variety in battle modes like capturing a single point, bombing, or team death-match has all been made swift with enhanced touch options.
You can match with more than five real players at one time, with your friends or family, and dive into a PVP battleground. It is suggested to gain loads of kills so that at the end of each match, you can get a lot of rewards. These rewards will buy you new weapons or cool gear skins for your characters.
How to Play Modern Ops
As mentioned earlier, there are two teams in the game: terrorists and anti-terrorists. Players can choose either of these teams and start their confrontation. Your goal is just to clear all stages while killing your enemies.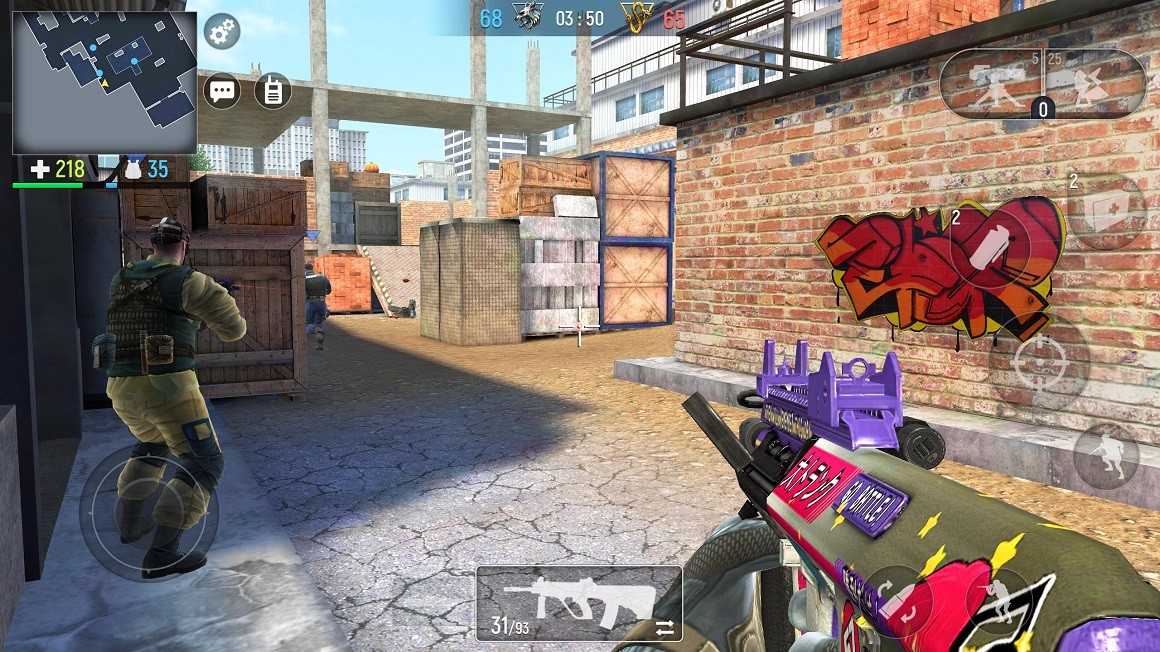 For this, you have to move quickly, from one shelter to another, react immediately, think tactically and strategically, along with coordinating with your other teammates. You will get more and more points if you keep drawing opposing players from the opponent team.
Your victory in the game is defined by every confrontation, by which also means getting more money in the game.
And the more money you get, the more you can spend to buy ammunition and equipment to upgrade your gameplay.
Gaming Controls and More
The upgraded equipment and ammunition are very versatile and more modern than the weapons that you are initially given. You can also use airborne helicopters and drones to locate or find the location of your enemies from one place to another.
The graphics of the game are 3D which gives the game vivid controls for every action. The shooting button is located on the right side of your device and the movement controls of your character are located on the left side of the screen.
Also, there are buttons on the right side of the screen to switch guns or shredders. You can jump, bend and also move around with cursors which are visible on the right bottom of the screen.
Different Modes in Modern Ops
If you are playing Modern Ops in the Random Mode then the game will automatically choose a map for you. It is a five minutes long game and while playing you can choose a primary weapon, any AR, SMG, or machine gun. You can also earn rewards after every match that you have played.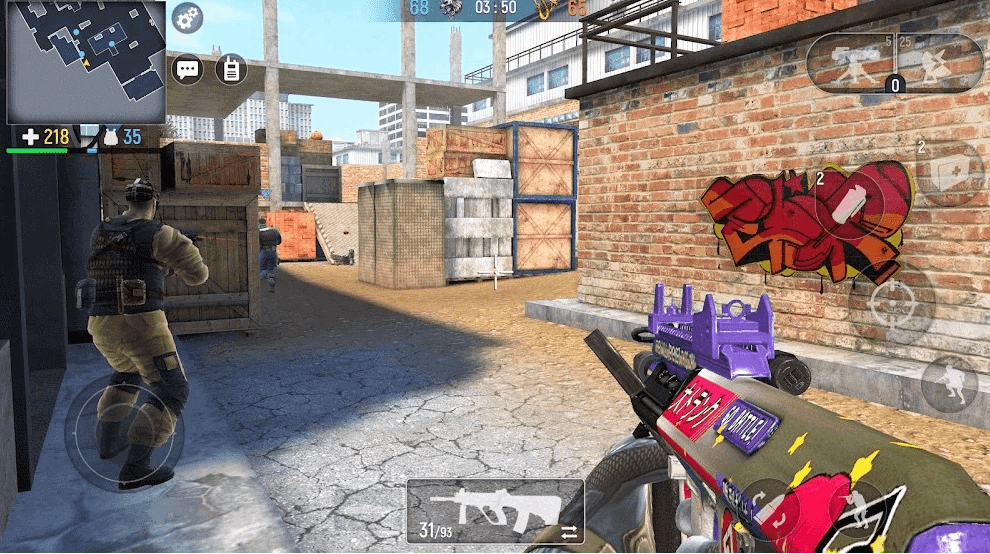 If you wish to play in the Team Deathmatch mode, then you will have to unlock this mode to do so. As soon as you unlock this game you will be rewarded with skins, attachments, and up-gradation of weapons and armors.
The matches in these modes are also five minutes long and players have the same combination of guns as in random mode.
A primary gun, a knife, and a pistol, along with that two smoke and frag grenades are also provided to each player on every respawn.
Some Other Modes
The next mode is Point Capture, where the players have to stay in a base decided anywhere on the map. The more your team stays in the base, the more their dominance increases in the game.
The team which has the maximum percentage of dominance staying inside the base at the end of the match wins the battle. This gaming mode is four minutes long and the team who wins the battle is rewarded at the end of the match with skins, armors and weapons.
Knives Only is another mode where players can only use a knife to take down their enemies. Any weapon except for a knife can kill your enemy, but there is a wide variety of knives for you to choose from to win the battle. The duration of this mode is five minutes.
The Bottom Line
The above guide helped you clear how to download and play Modern Ops on various devices. Other than that, now you know what its features are and what makes Modern Ops a unique one off the list. It's now the time to Swipe, Aim and Shoot in Modern Ops!