If you're looking for a mobile game to play while trying to kill time, Bubble Breaker is the perfect game to download and play.
The rules in playing Bubble Breaker are simple. Tap two or more adjacent bubbles to pop them and earn points. You win each level by popping as many bubbles as possible.
However, there is more to the game than just popping bubbles left and right. Learn more about the game, how to get money, and some tips to help you during the challenging levels with my guide below.
Pop the Bubbles
Play All Three Game Modes
Start from the Bottom
Earn Points to Earn Money
Don't Be Afraid to Restart the Level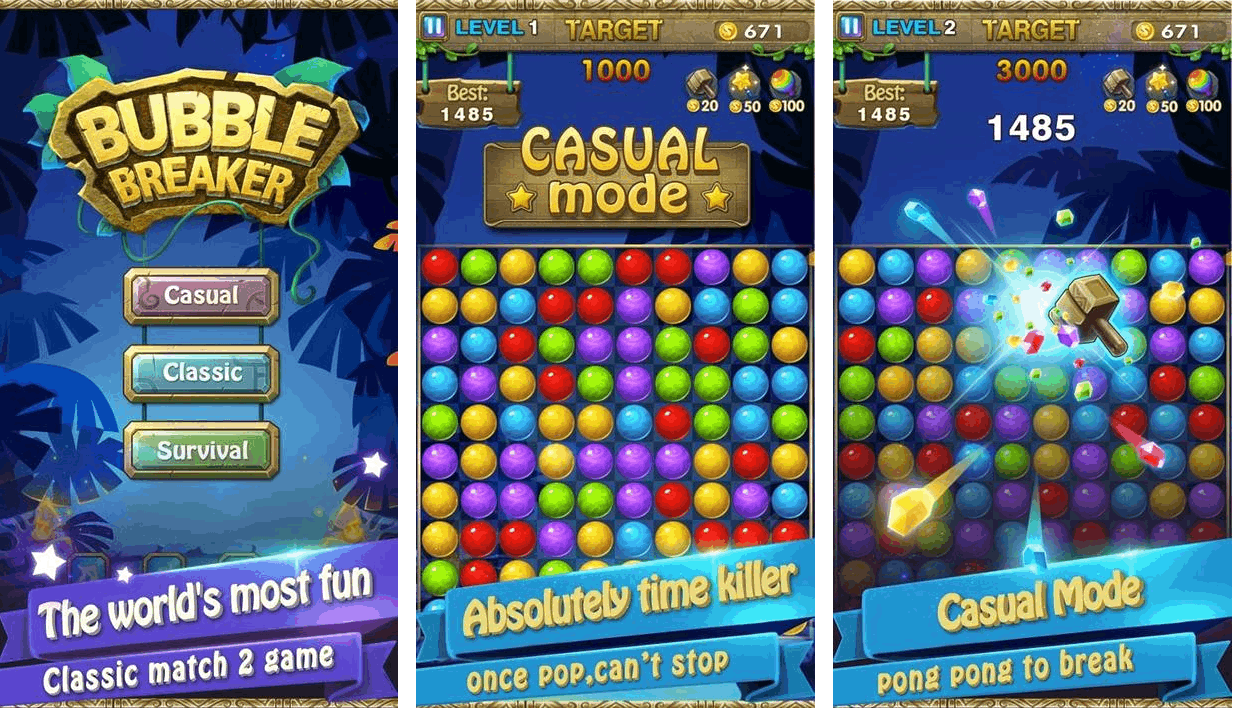 Pop the Bubbles
Bubble Breaker is a mobile game where I break or pop bubbles throughout each level. The more bubbles that are popped, the higher score I get.
To play, I tap two or more bubbles of the same color that are adjacent to each other, and they will disappear from the board. Popping these bubbles will help me earn points depending on how many bubbles are removed from the game.
Players don't have to work to remove all of the bubbles, however. The game ends when there are no more bubbles that can be removed from the game.
A good way to pop the bubbles and earn more points at the same time is to look for three or more bubbles that are clumped together and pop them as soon as you spot them.
Downloading Bubble Breaker
Bubble Breaker is now available for download at the Google Play Store for all Android devices.
Search for the app's name in the search bar and select the option by the developer Puzzle Game Glow. Click the Install button to download to your device.
Developed by Puzzle Game Glow, Bubble Breaker can also be played offline. The mobile game contains ads and does not have any in-app purchase features.
Play All Three Game Modes
Bubble Breaker features three different game modes. Each of them has its own set of rules.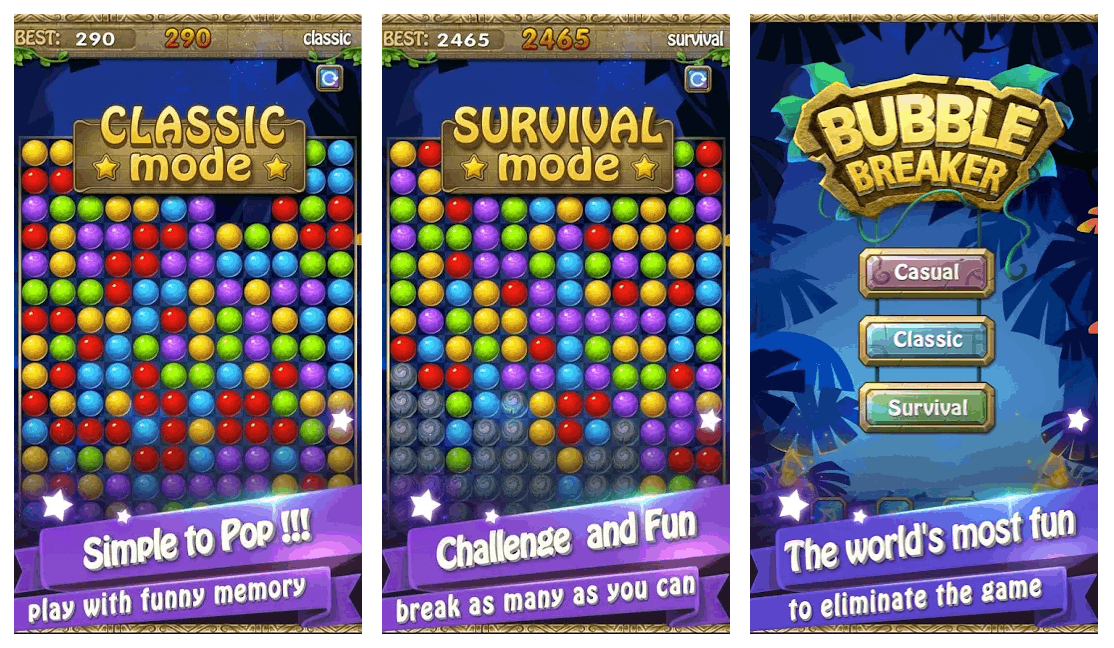 If you want to play a quick game, you can try the Casual mode. Casual is made for players who want to play the game when they only have a few minutes to spare. It's a great game mode to play whenever I'm stuck in traffic or if I'm on my break at work.
The Classic mode is another game mode that heavily focuses on giving players more challenges. Lastly, Survival mode is the most competitive game mode of the three. Players need to break as many bubbles as possible to earn points.
You'll need to break your previous record or get the highest possible score in the game to rise to the top. Doing so will earn you a spot on the game's leaderboard, letting your name be known to all players from all over the world.
Take a Break and Gain a Fresh Perspective
Bubble Breaker can be very addicting at times, and this can pose a problem, especially if you've been playing for a couple of hours. Many players often feel that they can't spot the same colored bubbles as they did when they first started the game.
Sometimes, it can even affect how you play the game, and you end up getting stuck on a certain level. This can be attributed to mental exhaustion. Try to take a break in between games.
I either go out for food, take a walk, or charge the battery on my phone while I'm away. Doing so will help you get a fresh new perspective in the game and help you gain your momentum back when playing.
Start from the Bottom
Mobile games that are similar to Bubble Breaker often have the same mechanics. Most of these games require little to no strategy to complete each level. There is one strategy that is very effective in many of these games due to the game's innate gameplay mechanic.
If you notice, each time you break a bubble, the bubbles on the top slide down. This means that the entire board is rearranged every time you break them.
This ultimately means that you need to start from the bottom to rearrange the entire board from the get-go. Doing this opens up countless opportunities to match and break those bubbles.
If you are lucky enough, the board ends up having more bubbles clumped together, thus creating a chain reaction and getting even more points.
Plan Ahead
Another great strategy to employ while playing Bubble Breaker is to look at the board before popping your first bubble.
Look at the board from top to bottom and spot which part has the most number of same-colored bubbles near each other.
Make sure that you don't shake the board that much so that it will send these bubbles in different directions. Try not to cause too much chaos on the board by planning which area, apart from the bottom, you can start first. Assess the entire board and strategize properly.
Earn Points to Earn Money
The main point in playing Bubble Breaker is to earn as many points as possible. Breaking bubbles will help you earn points. Each level will require you to reach a certain point threshold which will, in turn, give you money.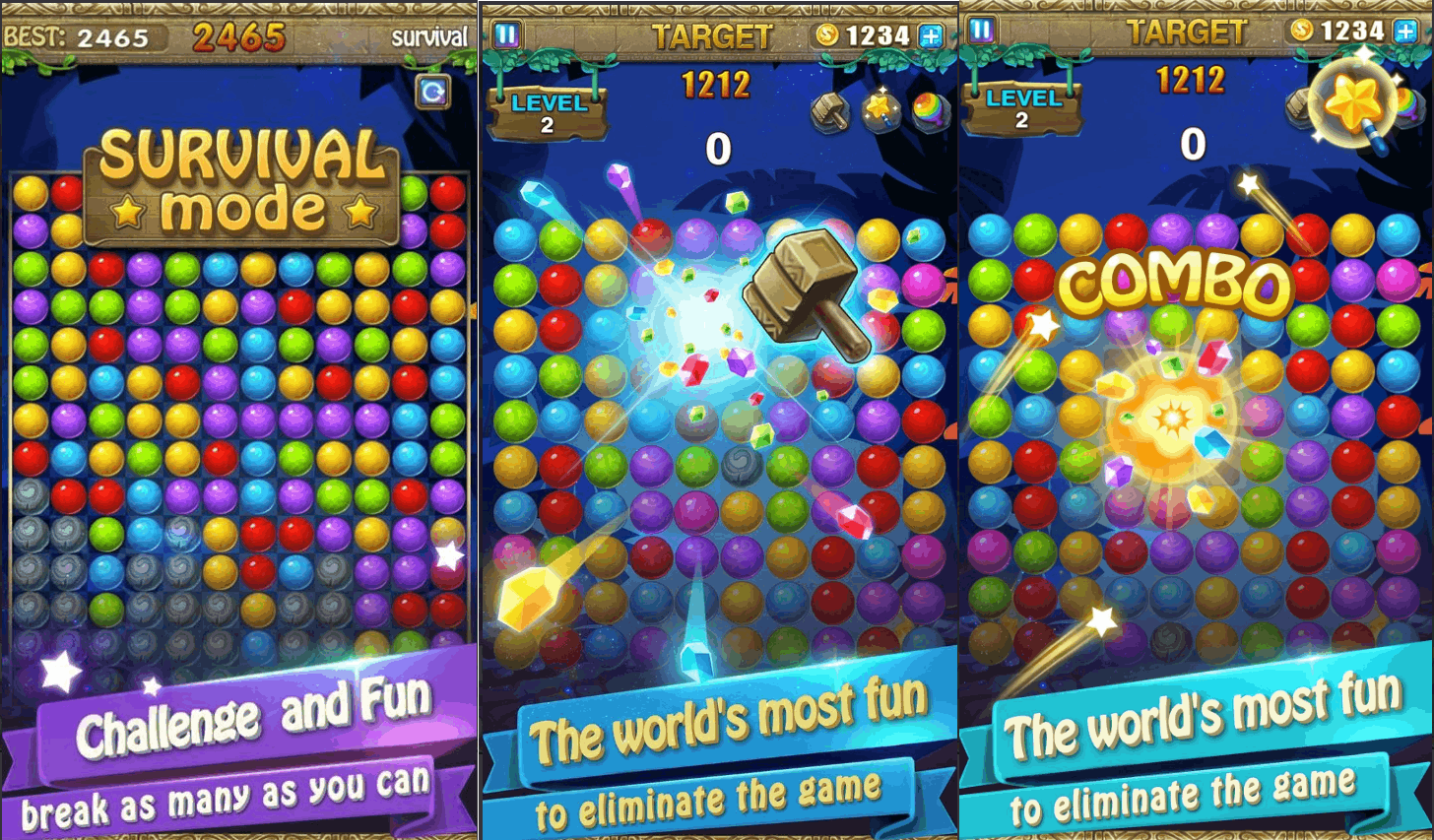 Each time I finish a level, I also get money according to the points that I've earned in playing. At the end of each level, the game calculates all of the points that I've gathered, and I get to earn money.
The game also calculates the remaining bubbles on the board and includes them in the tally. The fewer bubbles that remain on the board, the more money I get.
The objective of the game is to end with as many bubbles on the board as possible and get to earn as many points along the way.
Reach the Target as Fast as Possible
Each level has a specific target number of points to clear it. However, even after reaching the target amount of points, I can continue to play the game. The game has an allotted time frame for players to try and clear as many bubbles as possible before the game truly ends.
Try to reach the target as fast as possible and then go beyond the threshold to earn even more money. There's no need for you to do combos at this point as long as you clear most, if not all, of the bubbles on the board.
You may also try to end the game if you reach your target to move on to the next level. It depends on your need to reach your goals.
Don't Be Afraid to Restart the Level
Every once in a while, I encounter certain levels that are quite difficult to complete. Most of these levels have a target cap that is nearly impossible to reach.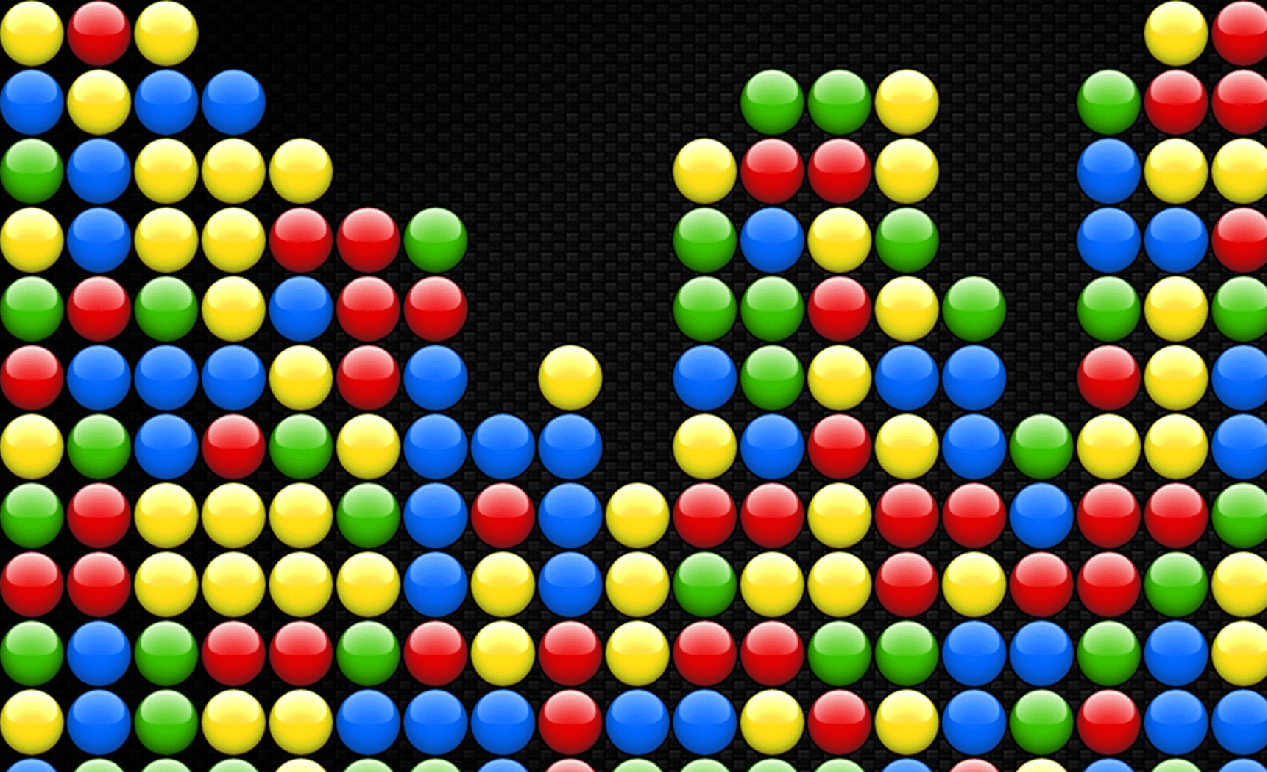 Some of these levels require a lot of effort to complete, and even with the use of power-ups, which I'll explain next, it is very hard to do. When I do encounter these levels, there are two things that players can do.
One is to push through and see if I can reach the target or restart the level entirely. I often choose to restart a level and see where I went wrong.
Many of the levels that I find difficult to finish may be the ones that I've made mistakes in. Whenever you feel like you won't be able to reach your target, just hit the restart button. Learn from your mistakes and it will get you to higher levels.
Use Your Money to Purchase Power-Ups
All of the hard-earned money I get from playing the game is used to purchase power-ups. Power-ups are available for use especially in tough situations or if I want to reach my target for that specific level. There are three types of power-ups available for purchase.
Two of the power-ups remove bubbles from the game, but the third power-up has a more powerful impact on the game. It changes the color of a certain bubble allowing you to break it.
This power-up allows me to clear a level almost instantly, but it also costs around 100 coins. The expensive price tag is a good trade for such a powerful power-up. I only purchase this power-up whenever I feel like there are no more bubbles for me to break.
Conclusion
Playing Bubble Breaker on mobile is a lot of fun and makes passing time waiting for the bus and commuting much more enjoyable and entertaining.
To get the most out of your time playing the game, apply the tips that I mentioned above to move quickly through the levels, tackle challenging levels head-on, and enjoy playing Bubble Breaker.